By Phyllis Hanlon
Technician training at Nashville's St Thomas Health takes a twist with innovative videos focused on customer service
Make no mistake about it—Robert Bergeron is not a scriptwriter or producer. His expertise lies in the analytical and technical skills required as a clinical engineer. As clinical engineering modality manager at the West and Midtown locations of St Thomas Health in Nashville, Tenn, he brings those strengths to the department. But the 6 years he worked at Johnson & Johnson, a company focused on customer service, prompted him to consider other important aspects of the job.
When Bergeron began working at St Thomas, he noted the extraordinary amount of training offered to technicians. While these teaching opportunities focused on new equipment, protocols, and repair-related procedures, he saw a missing piece. Since the technicians interacted with every department within the hospital system, why not offer training in relationship building? With support from the corporate office, his creativity and enthusiasm for the project contributed to the development of a series of training videos intended to enhance existing customer service skills among all technicians. Not only did this novel training technique earn Bergeron professional recognition, but it has also become a pioneering teaching tool that can benefit personnel in any department.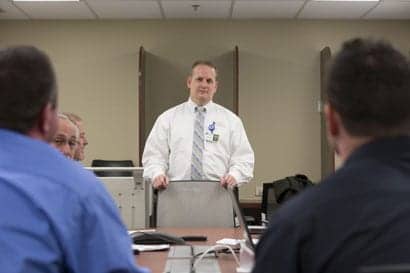 Above: Robert Bergeron leads a staff meeting. Top image: Lead techs Brandon Coffey and Rick Moore work on a slit lamp for the ER
Maintenance and Training
Bergeron and his team of 15 technicians maintain all equipment in the two Nashville facilities, although their expertise is sometimes needed at the Centerville and Murfreesboro sites as well. TriMedx administers the system-wide clinical engineering program. Responsible for 22,000 pieces of equipment, from infusion pumps, hospital beds, stretchers, and sterilizers to wheelchairs, CT machines, scope washers, and MRI equipment, the department is kept busy. "There is nothing in the hospital realm that touches humans that we don't deal with," Bergeron notes.
And, unlike most medical facilities, St Thomas has only one external biomedical contract. "We take pride in attempting to repair equipment ourselves. We grade ourselves on in-sourcing," Bergeron says. A robust training budget helps keep the technicians' maintenance skills and knowledge up-to-date. "When we purchase a new piece of equipment, we try to get the hospital to cover the cost of training. Every month, someone is traveling somewhere for training. We also do on-the-job training."
Several of the hospital's clinical engineering technicians run their own shops within the departments that they are responsible for servicing, according to Bergeron. "All of the others work out of the main shop, and a few specialize. But we all help out in every department."
One of those specialists is Michael Powell, BMET III. For the last 9 years, he has used his acquired skills and hands-on training to service life support ventilators, respiratory equipment, dialysis machines, telemetry, and other patient monitoring devices at St Thomas. During his 3 years in the Marine Corps, he learned ground radio repair and took electrical courses. Upon discharge, he worked for a Tennessee company on its business telephone system. A chance meeting with a technician from St Thomas Health Hospital led him to apply at the facility.
Fellow technician Danny Wooden, BMET III, has "done everything in biomed" during the last 30 years. With basic electronic education, also acquired in the military, he has built on this foundation with significant on-the-job training. He became certified in 1987 and continues to learn about various pieces of equipment. Telemetry has been his specialty, and he will soon be training on a new system. "Training leads to cost savings, better customer services, efficiency, and basically better return on investment," he says. "If you can develop a procedure you can use, it helps defray future costs."
In addition to tending the telemetry system, Wooden currently works in surgical services and cardiology, where he maintains and repairs anesthesia machines. He finds that juggling multiple priorities sometimes poses a challenge. "For example, the doctor might be ready to start a case and has an anesthesia problem, or the patient is on the table having an anesthesia problem. Or I might be called to talk to someone about a CO2 gas situation in the lab. I work in all the departments, wherever the hospital needs me. You have to learn to triage quickly," he says. "This is something you don't learn in school. You have to manage yourself to get the job done effectively. You can't rely on someone else to tell you what to do. You have to work well within the team and still juggle tasks. Time management is critical."
However, it's these challenging situations that lead to professional satisfaction for Wooden. "I find making order out of something chaotic very rewarding. Creating a workflow, an algorithm the next time the situation comes up, is rewarding," he says.
Wooden has created protocols, best practices, and algorithms, on his own and with others, that enhance workflow patterns. "A lot of what we do is not new, but if something new does come up, we find an efficient, productive way to handle it so we can replicate it next time. For me, it's meaningful to get work done on time and efficiently," he says.
Participation and Education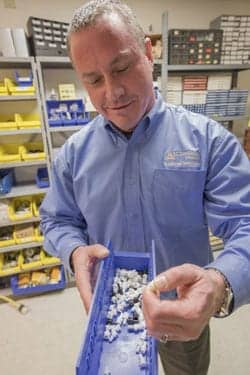 Regional Lab Specialist Bradley Hoeflicker searches for a connector for a lab analyzerClinical engineering staff participate in several hospital-wide initiatives, such as the Environment of Care Rounds and various committee meetings. Input from the technicians is valued when developing new protocols and purchasing new equipment. As manager, Bergeron attends the Leadership Huddle and other meetings. With the help of his lead technicians, Bergeron is able to maintain a presence at simultaneous meetings in disparate locations and keep updated on hospital news at both Nashville locations.
Bergeron's team also maintains a detailed database that contributes valuable input during discussions around the capital planning process. "We keep records of repairs, cost, usage, mean time between failure, and total cost of ownership," he says. "If the hospital is looking to purchase different medical device models, we can tell them which one is better. Every year we provide a list of the top 20 devices that are the most suitable for replacement."
Moreover, clinical engineering techs educate staff on proper care and usage of equipment, which helps to keep costs down. For example, Bergeron explains that damage can occur to scopes when cords are left hanging over the edge of a counter or become buried under a stack of trays. By making staff aware of the proper way to handle this equipment, the hospital can avoid a $6,500 repair bill.
As St Thomas has switched to hybrid operating rooms that have robotic arms, integrated OR suites, and MRI equipment on the ceiling, clinical engineering has played a key role in the design of the space. "The hospital is going through a 3-year beautification project. They are closing some wings, gutting some sections of the building, redoing them, and transitioning to new telemetry. Both hospitals are converting to new GE systems, one in December 2013 and one in January 2014. There will also be an overhaul in the sterile processing department," Bergeron says. "There are several construction projects ongoing, and we are lead on some projects."
Those who work at St Thomas, and those seeking employment there, quickly learn about the faith-based values by which the hospital system operates. Bergeron says, "We tell an applicant this is not just a list of values. Throughout the facility, people are really committed to that philosophy. They are not doing these things because they're forced to do them."
The overall interview process for new-hires, which may take up to 4 hours, serves to identify the candidate who fits most closely with their holistic, spiritual approach to health care. The process begins with Bergeron, who meets briefly with the candidate. He prefers that the individual spend more time on the floor with a technician to get a firsthand look at the facility, the staff, and the job responsibilities. So each candidate shadows a technician to get a better understanding of the culture and the day-to-day operations. "The person has to be a good fit and have all the information necessary to make a good decision," Bergeron says. This process pays off in the long run, since staff turnover is relatively low. "All staff has a good rapport. There are good dynamics among the team members."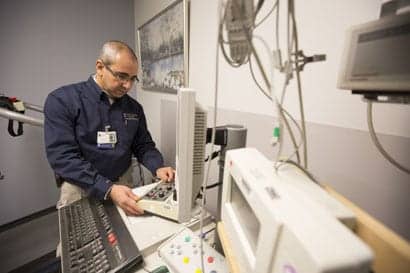 Essam Gergis performs a safety check on a treadmill
Good Bob/Bad Bob
In an effort to standardize and emphasize this culture of understanding and kindness, TriMedx explored the idea of creating a visual tool. When Bergeron's director brought up the idea in 2011, he agreed to take on the project and contacted a local art institute that had a videography program. "We offered to allow them to use our video as one of their class projects. But it grew into something larger than our resources could handle," he says. "I contacted corporate to see if we could get some financial backing. Once we started to talk, we discovered that they had begun discussions on how to communicate the TriMedx way. We realized we were on the same page with corporate, and they latched onto our concept."
Originally dubbed Good Bob/Bad Bob, the video series sought to deliver a clear message to the technicians about how to serve as a positive representative for the hospital, the team, the biomedical industry, and TriMedx, as well as how to foster good relations with all customers. Bergeron worked with Alissa Bartenbach, senior talent development consultant for TriMedx, to develop the scenarios and scripts for the videos. While she held focus groups, he conducted conference calls with managers who pitched ideas. "They gave us feedback on different scenarios. We used manager technicians as advisors. We wanted to make sure we connected at the site level. We wanted the wording in the videos to be legitimate and relate to the techs," he points out.
At the same time, Bartenbach spent 2 months soliciting input from technicians for the videos. "We wanted a way to show why TriMedx technicians are different. We couldn't use something off the shelf," she notes. "We wanted to teach phrases to instill confidence in the customer and help de-escalate a situation. It had to become a common language for all 800 of our technicians."
"I sat with focus groups, and we talked about issues that had become obstacles. A lot of the video ideas came from day-to-day encounters," Bartenbach explains. "Many techs have military backgrounds or come from an OEM. They are analytical. So we had to look at what's important to the techs and addressed four key essentials to customer service."
Ad lib actors received an outline of the intended message and played the roles of technician and nurse in the videos. "We gave them specific phrases and lines to use in the videos," Bergeron says, adding that the entire process took close to 24 months. "We filmed the first set of videos and showed them to corporate. The executives tweaked them a bit, and we redid the scripts."
Bartenbach created facilitator guidelines for the managers so they could ask appropriate questions after their techs had viewed the four videos. "The idea was to spark
discussion. We ask the techs what they noticed and have they ever been in this situation. It's easier to pull yourself out of a situation when you're a third-party observer," she says.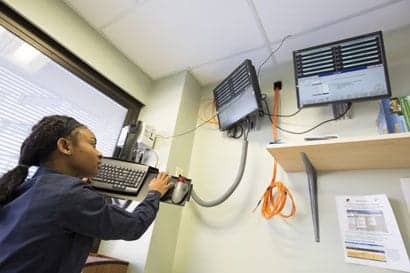 Olivia Kammenge-Simo sets up alarm settings on telemetry central station monitors
Award Winners
The focus groups and technician interviews resulted in four videos that address different challenges the techs face in their daily operations, including "Understanding the Communication Process," "Listening and Responding with Empathy," "Serving as a Positive Representative," "and Building Trusting Partnerships." Each video comprises two parts: in the first segment, a situation is presented in which the technician demonstrates an inappropriate response, while the second scenario offers a more positive approach to the same situation.
For instance, one of the "bad" versions involves a nurse who is frustrated that her ultrasound machine is not working. She argues with the tech, and he, in turn, argues back. The tech is abrupt and offers too much technical information. In the second, "good," scenario, the nurse is still upset, questions the tech's credentials, and complains about inconveniencing her patients. This time, the tech leads with empathy instead of being defensive. He smiles patiently and reassures her that he has trained with multiple vendors on a number of machines and can solve the issue. The tech endeavors to make the nurse, his customer, know that he understands her problem.
The success of the series has prompted plans for more in the future. "We are planning on creating additional customer service videos for our TriMedx managers in FY14. We will use the same essentials, but make situations relevant for how our managers should react. For our current technicians who received the training, we will be implementing a customer service observation tool," Bartenbach notes. "This will be used by our managers to encourage them to round with their technicians and observe their level of customer service. This also opens the door for them to provide relevant and timely feedback or praise for exceptional interactions."
Since releasing the videos, Bergeron has received positive feedback from the techs and the managers. He is pleased that the videos achieved their goal of standardizing customer service policy. "Certain site managers emphasize customer service more than others. These videos will give tools to the managers who need to brush up on their customer service skills. There is no way to watch the videos and not force a discussion. The main intent is to capture key concepts," he asserts.
Wooden finds the video series a "snapshot of our day-to-day work." The scenarios reflect many situations clinical engineering techs encounter in the course of a stressful day, he says. "Communication—or a lack of it—is a big thing. We have to remember that the customer is also having a stressful day. We need to integrate, be part of their team."
Powell also offers kudos for the customer service videos and takes to heart the message they promote. "We have to engage with the customer to show them we are invested in their problems. We have to instill confidence in them," he says. "For me, the videos reiterated a lot of things we already know. Show up in a timely manner, ask questions, find out what the problem is, and leave your customers feeling good."
Powell adds, "This is a faith-based hospital, and we promote the idea of treating each other the way we want to be treated," he says. "This philosophy permeates through the hospital. It's our job to take a stressful situation and make it better."
Bergeron's efforts have paid off, not only for improving relationships between clinical engineering staff and all other hospital departments, but also for earning kudos from TriMedx. "Every year TriMedx gives awards for those who represent its core values, one of which is creativity. Three people were nominated, and I won the award," he says. "It was a pretty humbling experience. The idea really came through my director to me and then took flight through the corporate office." Bergeron also credits Bartenbach and her team for keeping the project on track.
While most clinical engineering departments provide a critical service in the operation of a medical facility, the team at St Thomas has gone beyond the norm and created an effective customer service tool that reaches the heart of the health system. 24×7
Phyllis Hanlon is a contributing writer for 24×7. For more information, contact Editorial Director John Bethune at [email protected].