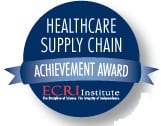 ECRI Institute has announced the winners of its fifth annual Healthcare Supply Chain Achievement Award. The award honors healthcare organizations that demonstrate excellence in overall spend management and in adopting best practice solutions in their supply chain processes.
The winners of ECRI Institute's 2016 Healthcare Supply Chain Achievement Award are: Children's Hospital Los Angeles?Los Angeles, Calif; Greenville Health System?Greenville, SC; Mountain States Health Alliance?Johnson City, Tenn; NCH Healthcare System?Naples, Fla; Parkland?Dallas, Tex (3-year winner); Piedmont HealthCare?Atlanta, Ga; ProMedica?Toledo, Ohio (2-year winner); Reading Health System?West Reading, Pa; Stanford Health Care and Stanford Children's Health?Palo Alto, Calif; Summit Health?Chambersburg, Pa; University of Vermont Health Network?Burlington, Vt, and WellSpan Health?York, Pa.
According to ECRI, the winners were recognized for developing solutions that ultimately reduced costs without negatively impacting quality and outcomes. The winning organizations were chosen out of nearly 3,000 hospitals and health systems who participate in ECRI Institute's PriceGuide and SELECTplus supply and capital procurement advisory programs. Each winner demonstrated a high level of dedication to improving healthcare quality and reducing costs by leveraging the full range of their ECRI Institute membership services.
The evaluation process reportedly included a study and analysis of each organization's purchase order history submitted on a routine basis. In addition, ECRI Institute looked at supply chain initiatives that included ongoing and consistent spend management and market analytics efforts for all medical devices, including capital medical equipment, supplies, physician preference items, service contracts, and reagents, among others.
For more information about the winning organizations, visit the Healthcare Supply Chain Achievement Award Winners Circle on the ECRI website.