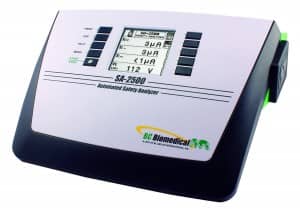 BC Group International has released its newest model of safety analyzer, the SA-2500, which was created to fill the need for a more capable and user-friendly safety analyzer with AC + DC measurement. The new analyzer is a portable, durable instrument with advanced testing abilities.
According to BC Group, the SA-2500 includes all the usual features of a standard safety analyzer, including line voltage measurement, earth/ground lead resistance/leakage current, point-to-point testing, enclosure/chassis leakage current, external resistance, and external leakage current. It has a universal power supply compatible with line voltages from 90-240 VAC with load currents up to 16 amps. All measurements are true RMS readings.
The SA-2500 has a variety of other progressive features, including separate measurements for AC + DC that allows for test limits that are different for AC or DC currents; the ability to measure the quality of insulation in a product's power wiring to ensure safe resistance to any exposed metal parts; and remote operation capabilities from a PC or laptop to control measurements, test sequences, and print reports.
For more information about the SA-2500, visit the BC Group webstore.