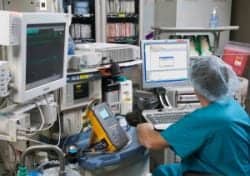 Interface for CMMS
Fluke Biomedical, Everett, Wash, and Four Rivers Software Systems, Pittsburgh, jointly offer a computerized maintenance management system (CMMS) interface. The TMS Fluke interface will integrate Ansur software with Four Rivers Software's CMMS solution, TMS OnSite/TMS OnLine. Ansur software automates Fluke Biomedical analyzers and simulators to facilitate medical device inspections, whether for preventive maintenance or post-repair testing.
Designed to automate medical device testing and reporting to ensure safety standards compliance, the new product will use a TMS database and TMS Fluke interface to record, archive, and report Ansur-automated test records.
(412) 256-9020
www.flukebiomedical.com
---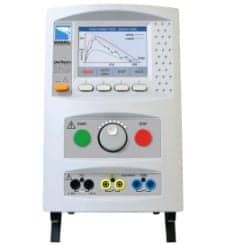 Electrosurgical Generator Analyzer
The Uni-Therm from Rigel Medical, Peterlee, United Kingdom, accurately measures the performance of electrosurgical generators, including high frequency leakage, high current, power distribution, and patient return plate alarm testing.
Compliant with IEC 60601-2-2, the Uni-Therm can verify and calibrate major electrosurgical generators while guiding the user through test procedures automatically. A high power load bank enables performance testing up to 6A RMS with a duty cycle of up to 100%. The array of internal resistors, ranging from 0Ω to 5100Ω in 5Ω steps, provides accurate and detailed power curves.
Additional product features include built-in memory, test automation, wireless connectivity, comprehensive data-management facilities, and a wide range of built-in resistors, while a large full-color screen displays easy-to-follow, step-by-step instructions to ensure the correct connection to the device under test.
(813) 886-2775
www.rigelmedical.com
---
PM Autosequence for ForceTriad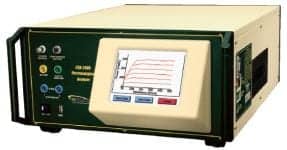 BC Group International, St Charles, Mo, has updated its ESU-2400 automated PM with software for the Covidien ForceTriad. The new ESU-2400 takes a PM with more than 100 steps and automates it, collects data on every point, and ensures that the PM is complete, reducing the amount of time required to perform the PM.
In addition to the new secure autosequence for the ForceTriad procedure, new features include an improved software package and user manual for the ESU-2400, an RS-232 terminal window that shows mA measurement and can set load; a copy step function; and a ground-referenced measurement mode for radio frequency measurement.
(800) 242-8428
www.bcgroupintl.com
---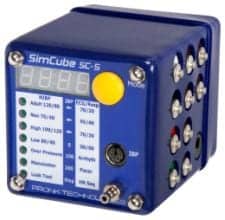 Handheld NIBP Simulator
Pronk Technologies, Sun Valley, Calif, has expanded the capabilities of its flagship product, SimCube. Users can now interface the SimCube noninvasive blood pressure (NIBP) simulator to various electrical safety analyzers currently on the market. Using SimCube, safety analyzers can define the NIBP simulation. The SimCube will also transmit the collected data back to the electrical safety analyzer. This provides seamless integration of the NIBP parameter test results for electronic service records.
The new plug-and-play feature of SimCube's connectivity supports automated test scripts and auto sequences as defined by the electrical safety analyzer. Custom auto test scripts enable users to perform static calibration, leak tests, as well as define systolic, diastolic, mean, and pulse rate values for NIBP simulations.
(800) 609-9802
www.pronktech.com