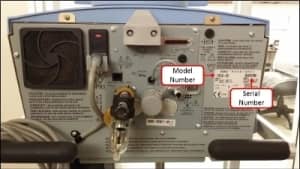 CareFusion has issued a global voluntary Class I recall for certain units of the company's Avea ventilators in response to a potential malfunction of the 5 psi pressure transducer. Initiated on April 21, 2015, the recall covers Avea ventilators manufactured, serviced and distributed from July 1, 2011 to March 15, 2015. To date, no report of patient injury has been received related to this issue.
The Avea ventilator is designed for use in hospitals to provide breathing support for neonatal through adult patients. According to the recall, the affected ventilators "may develop a failure mode over a period of time, where, by design, the ventilator activates false Extended High Ppeak or Circuit Occlusion audio and visual alarms, opens the safety valve, and stops ventilating. If this occurs, alternate ventilation support will be required to reduce the potential of hypoxemia or hypercapnia."
CareFusion has notified affected customers via an urgent recall letter and will coordinate with global customers through its Recall Support Center. According to the company, affected units do not need to be returned. However, if an Avea ventilator "exhibits a sustained Extended High Ppeak or Circuit Occlusion alarm followed by the opening of the safety valve that cannot be cleared by powering the ventilator off and back on again, immediately remove the ventilator from service, provide alternate ventilation, and contact CareFusion Technical Support…to report the issue."
The CareFusion Recall Support Center can be reached at (888) 562-6018 or SupportCenter@carefusion.com. For more information, see the FDA's Safety Alert.