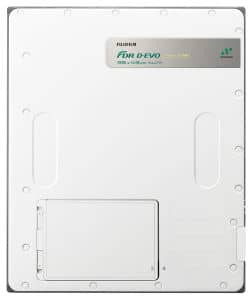 Fujifilm's new FDR D-Evo II flat panel digital x-ray detector, several of which have recently been installed by East Texas Medical Center, allows for faster exams and image quality improvements while also reducing patient dose.
According to Fujifilm, the company's new digital x-ray detector has been installed in the center's Level 1 trauma rooms in the emergency department to help improve the ease and speed of acquiring images. The center reports a 70% reduction in patient dose with the new system, as compared to the facility's previous digital x-ray system.
The Fujifilm FDR D-Evo II detector features improvements in design and functionality. The company reports that it is lightweight with a ruggedized magnesium alloy case and a streamlined shape that simplifies positioning under patients. Inside, the detector's electronics have been re-engineered to enhance dose efficiency and improve diagnostic image quality at ultra-low dose levels. D-Evo II is reportedly the first detector protected with a Fujifilm engineered antibacterial coating.
Fujifilm's new detectors are designed to provide reliability and advanced imaging capabilities for busy radiology departments, the company says, with improved critical care imaging. For more information about this digital x-ray system, visit the Fujifilm website.