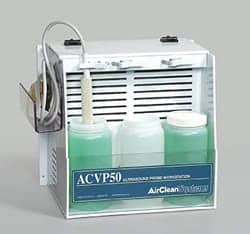 AirClean Systems, Raleigh, NC, has introduced an ultrasound workstation designed to protect technicians from vapors while cleaning and disinfecting transvaginal ultrasound probes.
Made of structural polypropylene, the workstation contains a fan that draws air into a carbon filter and away from the operator. A bonded filter eliminates the dust associated with loose carbon filtration, keeping the probe processing area clean. The workstation meets OSHA and JCAHO regulatory requirements and complies with ANSI/AAMI standard ST58 for safe use of glutaraldehyde products.
For more details, read the news story on 24X7's new Ultrasound Community, or visit the manufacturer's website.