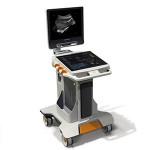 Featuring an all touch control panel, integrated GPU processing power, and smart transducer technology, coupled with a single-board system design, Carestream's new Touch Ultrasound System, the company says, will satisfy even the most demanding radiologists and sonographers.
The 100% touch control panel combines the speed and flexibility of a soft user interface with the tactile feedback of traditional keys, according to Carestream. Etched marking for primary controls assists the user in locating key functions without looking away from the image display monitor.
Easy maneuverability and a small, lightweight footprint make the imaging process faster and easier, while easy cart adjustments allow sonographers to position the system where it is most comfortable. The system's cold boot time of 18 seconds eliminates the need for standby mode or battery backup.
"Our new ultrasound platform was developed based on extensive input from sonographers and other ultrasound imaging professionals," said Diana L. Nole, President, Digital Medical Solutions, Carestream. "We identified important user needs that were not adequately addressed by existing ultrasound systems and created a powerful platform for ultrasound imaging. This is the first product in a new family of Carestream systems that can redefine this market and enable ultrasound providers to further enhance patient care."
A live demo will put the Touch Ultrasound through its paces, starting at noon CST on Nov. 30, at the annual meeting of the Radiological Society of North America.