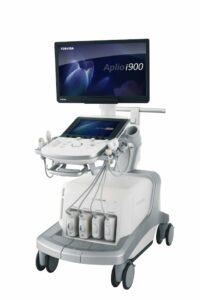 Toshiba Medical recently showcased its Aplio i900 at this year's American Society of Echocardiography 2017 annual meeting in Baltimore, Md. The Aplio i900 system is the latest addition to the premium Aplio i-series ultrasound platform.
The Aplio i900 system is ideal for adult, pediatric, fetal echo, stress echo, and transesophageal echocardiography imaging. The system boasts innovative features that allow clinicians to quickly and easily assess myocardial function or to quantify complex valvular lesions with great depth and detail.
A new beam-forming technology, iBeam, optimizes efficiency of the beam, increasing penetration, spatial resolution, and contrast resolution. Boosting productivity during exams, the Aplio i900 provides intuitive ergonomics with iSense and touch control screens, and real-time quick scan makes automatic image adjustments without pushing a button. The Aplio i900 includes Speckle-tracking based Strain quantification with 2D Wall Motion Tracking (WMT) software. Intelligent workflow with "3-clicks to GLS" (global longitudinal strain) provides easy, routine integration of strain without lengthy, off-line analysis to save clinicians time at the bedside.
"Toshiba Medical delivers flexible solutions to meet customers' specific needs, and the Aplio i900 ultrasound provides cardiologists with a new, more cost-effective, less invasive, and safer tool than other radiation-emitting modalities," says Dan Skyba, director of the ultrasound business unit at Toshiba America Medical Systems. "With crystal clear images and innovative clinical applications, the system facilitates confident diagnoses and allows providers to deliver better care to patients."