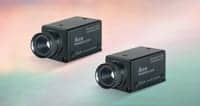 Toshiba Imaging Irvine, Calif, a manufacturer of compact high-definition (HD) and high-resolution CCD and CMOS video cameras, introduces the new IK-TF series of progressive scan cameras for color area scan machine vision applications.
Used for medical imaging and any application where color accuracy is critical and image data is fed to a computer for analysis or storage, the compact, one-piece cameras replace Toshiba's legacy IK-TF camera series. The newly enhanced 3CCD progressive scan camera family features improved performance with expanded digital processing capabilities. The IK-TF5P2 features VGA, 659 x 494 pixel output at 59.94 frames per second (fps); the IK-TF7P2 delivers XGA, 1024 x 768 pixel output at 29.18 fps.
Economically priced, the new Toshiba camera series integrates Power over Camera Link (PoCL), digital output and reduced power requirements. Both the electronic shutter and white balance can be controlled manually or in auto mode. The series also features a partial scanning function that increases frame rates up to 250 fps. Other features include electronic noise reduction, digital shading correction, dual power input (PoCL or 12VDC), C-mount lens mount, and both on-screen and remote RS-232 control.