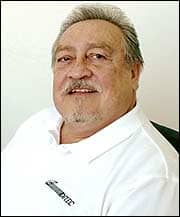 Manny Roman
In 1992, Manny Roman and a select few other industry professionals founded DITEC Inc, Solon, Ohio, to provide quality service training at an affordable tuition. The organization provides training and support services, and has avoided the temptation of entering the lucrative parts and equipment sales sector. With a motto of, "Commitment to quality in all we do," DITEC is recognized throughout the industry and is proud of its reputation. 24×7 spoke with Roman, president of DITEC, about the importance of training and the future of the biomedical profession.
24×7:  How are your classes structured at DITEC?
Roman: Most of our courses are designed for 8-hour days and are 1 or 2 weeks in length. They include hands-on laboratory exercises on actual equipment. Most attendees are employed biomedical and radiology service professionals enhancing their training and education. Their employers often cover all training and travel costs.
24×7:  Can students receive credit toward an AAS or other degrees?
Roman: We are an approved Ohio school, authorized to provide an applied engineering diploma in diagnostic radiology maintenance. Additionally, we have a partnership with Penn State University, where they provide continuing education certificates for successful completion of specified DITEC courses.
24×7:  DITEC has partnered with CTI; do you provide the company with material or oversee the curriculum?
Roman: We provide the subject-matter expertise and instructors for some of the distance-education courses offered by CTI. Prior to our partnership, CTI had generated numerous biomedical and other training courses, so we are providing the radiology expertise.
24×7:  How important are continuing education classes?
Roman: Continuing education is, of course, important for keeping up with technology, but we should not just keep technically competent. People skills are very important, as are management skills. Learning should be a lifelong experience.
24×7:  Through your work and contact with biomeds, what do you think they need to be aware of to stay viable?
Roman: Today's service professionals are not limited to biomedical equipment. They must prepare to service all types of hospital equipment, including radiology, PACS, and IT equipment. The opportunities for biomeds are increasing, not decreasing; and biomeds need to be managers of their careers, their service offerings, their customers' needs, future opportunities, etc. We no longer just perform equipment repairs; we manage customer relations systems, too.
24×7:  You have decided to have DITEC 2K7 this May. Why did you change your mind?
Roman: The Annual DITEC Conference is a gathering place for many industry managers and service professionals. After announcing that last year would be the final conference, we received a great deal of feedback requesting that we continue with DITEC 2K7. With more than 35 continuing education seminars, vendor exhibits, and a fun venue, it is a unique,one-of-a-kind industry offering.
Zac Dillon is associate editor of  24×7. Contact him at .