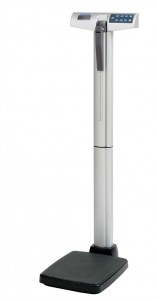 Welch Allyn, Skaneateles Falls, NY, has partnered with Health o meter Professional Scales to enable Bluetooth wireless connectivity between Health o meter Professional digital scales and select Welch Allyn vital signs monitors. The new technology expands on existing connectivity solutions for the scales to enable transmission of weight, height, and body mass index (BMI) data to patient monitors. The technology is compatible with the Health o meter scales already on the market; facilities need not purchase new models to take advantage of the wireless capabilities.
"We're proud that we have been able to develop a Bluetooth solution that meets the most rigorous requirements for our customers and is compatible not only with our new scales, but also all the EMR-compatible scales our customers have already invested in," said Ken Harris, vice president of sales and marketing for Health o meter Professional Scales.
Using Class I Bluetooth technology, the new solution allows secure, wireless transmittal of patient data over a distance of up to 330 feet, depending on facility configuration. Users can also connect scales via USB cords. By automating data exchange, the scales' wireless capability can improve workflow and reduce errors due to manual data entry, according to the companies.
For more information, visit Welch Allyn and Health o meter Professional Scales.