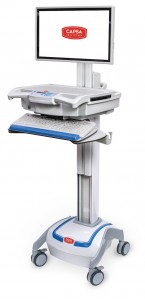 Capsa Healthcare recently unveiled a new company identity and an evolution of its flagship mobile computing cart at HIMSS17. Capsa Healthcare represents the complete integration of the former Capsa Solutions and Rubbermaid Healthcare.
The company's M38e mobile computing cart is an evolution of the flagship M38, which has installed more than 100,000 units worldwide since its launch in 2009. The M38e improves on the original with enhanced ergonomics, improved ease of use, and expanded storage flexibility.
Highlights of the M38e include an 18% smaller overall profile to glide through tight healthcare settings, 25% longer battery runtime for longer uptime performance, and over 20% larger hardware storage area for simple technology management. The unit also sports a 10% larger work space with slide-out surface to add 60% more area, and greatly expanded storage options and configuration flexibility.
"Capsa Healthcare is more than a new name—it's the true melding of two point-of-care equipment leaders," says Andrew Sherrill, chief executive officer at Capsa Healthcare. "By combining the best of Capsa Solutions and the proven history of Rubbermaid Healthcare, we are truly stronger and more capable as one organization to partner with our customers to improve healthcare performance."
For more information, visit Capsa Healthcare.