With the new Toshiba America Medical Systems Inc Vantage Titan 1.5T and 3T MR systems, clinicians can now visualize cerebral spinal fluid (CSF) bulk flow noninvasively.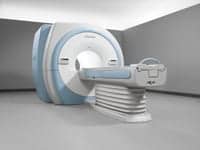 "Toshiba's advanced CSF flow MR visualization technique is an industry breakthrough as it allows the understanding of CSF disorders in a new way that can directly and immediately benefit patient care," said Stuart Clarkson, director, MR business unit, Toshiba. "Time-SLIP's ability to evaluate and observe CSF flow on Toshiba's 1.5T and 3T MR systems provides clinicians with an advanced solution to improve patient diagnoses and outcomes."
Using 2D FASE sequence, Toshiba's Time-SLIP technique can acquire a series of single-shot images to help visualize CSF flow without the use of contrast. Time-SLIP offers the ability to evaluate CSF disorders and may positively impact patients who require a shunt to restore CSF flow, drain it from a cyst, or open a pathway that is currently blocked.