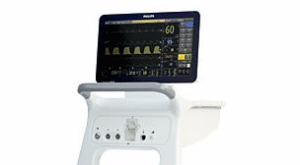 Royal Philips announced that the Expression MR400, a new technology that monitors patients undergoing magnetic resonance imaging (MRIs), has received 510(k) clearance from the US Food and Drug Administration.
According to Philips, the MR400 provides ICU-comparable, bedside quality monitoring in the MR suite for all patients, including those with serious medical conditions or who require anesthesia. The company reports that in the MR suite, strong electromagnetic fields make it impossible for clinicians to use traditional patient monitors without causing complications with the monitor or degradation of the images. The lack of adequate monitoring is particularly problematic for patients, including children, who require anesthesia when getting an MRI. Without the ability to reliably track key vital signs, clinicians may not know a patient is in distress until it is too late.
The MR400 is intended to give clinicians comparable detail to patient monitors in the intensive care unit (ICU) and other areas of the hospital. It is designed to avoid image artifacts or other interference from electromagnetic fields to ensure that patients receive the level of clinical care and monitoring they need. The MR400 monitors the same vital signs that are tracked in the operating room and ICU, including heart rate, oxygen and carbon dioxide levels, body and surface temperatures, and blood pressure, and also includes advanced ECG monitoring. Patients with serious medical conditions, including critical care patients or patients undergoing cardiac procedures, can also be monitored with the MR400, regardless of whether they are under anesthesia.
Similar to traditional patient monitors, the MR400 uses intelligent alarms to warn clinicians of severe patient changes, including desaturation, apnea, and extreme bradycardia/tachycardia. Clinicians and staff are able to customize the monitor settings for each patient to prioritize warning signals to reduce alarm fatigue. The new monitoring system uses a touchscreen with the same interface as other Philips' monitors, which is intended to make it easier for clinicians to view and respond to patient data.
The MR400 uses wireless technology, connects with the electronic healthcare record, and shares information with IntelliBridge Enterprise to seamlessly send and receive patient information across the hospital, so all care team members have access to the same patient information.
For more information about the Expression MR400, visit the Philips website.