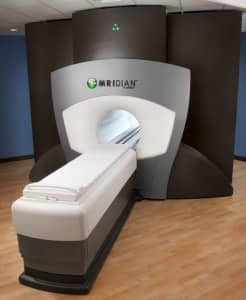 ViewRay Inc has announced that its MRIdian system has been used successfully for the past 2 years to treat patients with MRI-guided radiation therapy at Siteman Cancer Center at Barnes-Jewish Hospital and Washington University School of Medicine in St. Louis, Mo. The MRIdian system provides continuous soft-tissue imaging during treatment, using MRI-guided radiation therapy.
The Siteman Cancer Center specializes in cancer treatment and research. In January 2014, the Center began treating cancer patients using ViewRay's MRIdian MRI-guided radiation therapy system, which enables tumors to be visualized during treatment. The MRIdian technology is said to allow clinicians to see a patient's internal anatomy in real time and keep radiation beams on target during treatment, thus compensating for patient breathing and organ motion, which may move the tumor out of the desired position in the radiation beam.
Since its installation, the MRIdian system has reportedly been used to treat more than 25 different indications, and is used in clinical practice daily. An area of particular interest to the Siteman team is the use of MRI-guided radiation therapy to deliver stereotactic body radiotherapy (SBRT), which utilizes higher doses of radiation in a shorter course of therapy than traditional radiation therapy. The soft-tissue visualization enabled by MRI-guidance lends itself to the precision required for SBRT.
For more information about the MRIdian system, visit the ViewRay website.