By Keri Forsythe-Stephens
I've never liked the color pink. Much to the chagrin of my 6-year-old (who is the personification of a "girly girl"), I would choose a nice blue or even yellow over pink any day. So whenever October rolled around, the sight of pink ribbons everywhere made me inwardly groan. It's not that I didn't support Breast Cancer Awareness Month—of course I did!—but the abundance of pink felt overdone and, honestly, impersonal. But not this year.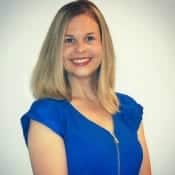 Several months ago, I tested positive for a very deadly CHEK2 genetic mutation, a status that puts me at extremely high risk for metastatic breast cancer. It was, by far, the biggest blow of my life. I had two options, according to my team of doctors: I could get breast MRIs and mammograms every six months and chance it or I could undergo a bilateral prophylactic mastectomy. I chose the latter.
On October 6, I will check into the hospital and start my journey as a breast cancer previvor. It feels like a club I never wanted to join, but I'm so grateful to live in a time where it's possible to be proactive, rather than reactive, about health decisions. And I'm also grateful for modern medical technologies, as well as those of you who ensure that they're safe for patient use.
Sadly, the blows of 2020 keep coming. My father, who is also positive for the CHEK2 genetic mutation, is currently fighting stage 3 prostate cancer. But I'm confident that he and I will overcome the bad hand we've been dealt—as so many of us already have this year.
2020 has changed so much—for me, personally, and for all of you working on the front lines of healthcare during the COVID-19 pandemic. But what I think it's shown us is how people are, at their core, resilient and capable of pivoting during trying times. (Just look at the way some of you handled ventilator repair at the height of the pandemic!)
While I'm out on leave during most of October, 24×7's associate editor, Melanie Hamilton-Basich, will be taking the reins of the publication. I know she will do a fantastic job, and I look forward to coming back to 24×7 stronger than ever. In the meantime, I'll be rocking my Breast Cancer Awareness pin. Maybe pink isn't so bad after all.
Keri Forsythe-Stephens is chief editor of 24×7 Magazine. Questions and comments can be directed to [email protected].