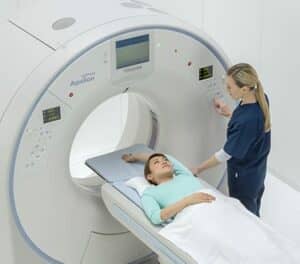 Toshiba America Medical Systems has received FDA clearance for its Aquilion Lightning CT system with a 50 kW generator. The Aquilion Lightning—a 16-detector row system designed for volumetric scanning—is an entry-level CT system that saves space without sacrificing technology.
Featuring Toshiba's PureVision CT detector technology, the system also includes Adaptive Iterative Dose Reduction 3D to help reduce radiation dose and improve patient safety. The Aquilion Lightning further benefits from the company's Adaptive Diagnostic technologies, including Single Energy Metal Artifact Reduction and SURESubtraction, which streamline scanning protocols. These technologies, along with the scanner's 0.5 mm slices and 78-cm-wide bore, help optimize workflow, Toshiba officials say.
"Toshiba CT puts customers first by providing top-tier solutions on every scanner, including our entry-level systems with a low cost of ownership," says Dominic Smith, senior director for Toshiba's CT, PET/CT, and MR business units. "With numerous features found in our high-end Aquilion scanners, the Aquilion Lightning ensures our customers don't need to compromise quality to meet their business goals."
The system also complies with the National Electrical Manufacturers Association's XR-29-2013 guidelines and offers a reengineered gantry that decreases heat generation, as well as power requirements.
For more information about this product, visit Toshiba America Medical Systems.