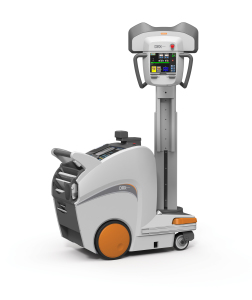 Yavapai Regional Medical Center (YRMC) in Prescott, Ariz, has purchased five Carestream DRX-Revolution mobile x-ray systems and two DRX-Evolution rooms to convert its hospital from computed radiography to wireless digital radiography. Prior to selecting the Carestream systems, the 135-bed hospital evaluated systems from four suppliers. Two of the recently purchased DRX-Revolutions will be located at the YRMC East Campus Hospital, a 50-bed facility.
"Converting from CR to DR represents a major investment in technology so it was imperative that we select systems offering excellent image quality, rapid image access, and a streamlined imaging workflow," said Mary Sterling, the hospital's imaging director. "Carestream's DRX imaging systems exceeded our expectations in these areas and enabled us to set new exposure techniques that can reduce dose while delivering excellent image quality."
The DRX-Revolution systems offer wireless access to images within seconds, and display each patient's previous image for technologists to review along with the current image. Each DRX-Revolution can access the hospital's radiology information system (RIS), so technologists can complete the study while they are at the patient's bedside, making the images immediately available for review by physicians and radiologists.
A DRX detector is shared between one DRX-Revolution and one of the hospital's fluoroscopy rooms. One DRX-Evolution DR room is equipped with a floor rail for the wall stand that helps technologists position the stand's detector for cross-table lateral exams. The second DRX-Evolution room is currently being installed, the hospital reports. Both rooms will serve the radiology department.
For more information about Carestream's DRX-Revolution mobile x-ray systems and DRX-Evolution digital radiography systems, visit the Carestream website.