By Joe Mandell
Each year, hospitals allocate a sizable portion of their capital budgets to the acquisition of new medical equipment featuring the latest technology. The purchases can range from the most basic digital thermometer to a complex cardio cath lab suite made up of more than 50 separate components.
At the same time, however, it appears that the resources being devoted to training healthcare technology management professionals how to service and maintain this new equipment are steadily declining.
In 24×7's annual salary survey article, published last December, the opening paragraph lists a series of grievances expressed by technicians and managers in the healthcare technology management career field. The complaint that most concerned me was "insufficient training." As a parent of four kids, and husband to a wife who survived cancer, I have spent my fair share of time sitting in the emergency department or recovery room comforting a loved one. Maybe it's the BMET in me, but in that situation, I always find myself checking the calibration sticker to see when the medical equipment attached to my wife or child was last serviced. I am always concerned when I discover equipment that has not been serviced.
Especially in light of the other grievances expressed in the salary survey article, such as "heavy workloads," "budget cuts," and even "lack of respect," I wondered if our technicians are receiving sufficient training to accomplish all their duties. For that reason, I created the New Equipment Training Survey earlier this year. Its goal was to discover how HTM professionals are learning to perform scheduled service and repairs on new medical equipment, and to assess the effectiveness of whatever training they receive.
The Survey
The New Equipment Training Survey was conducted from February 3 to February 28, 2014, using SurveyMonkey.com. Invitations to take the survey were distributed via several social media sites, including LinkedIn and Facebook, and posted on 24×7 Magazine's website and weekly newsletter.
The survey consisted of 10 questions that asked HTM professionals their opinion on various learning formats. Since the results were self-reported rather than observed, the data collected and analysis of the survey should not be viewed as a scholarly finding.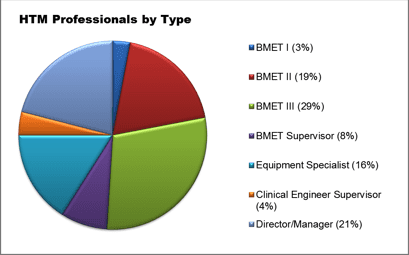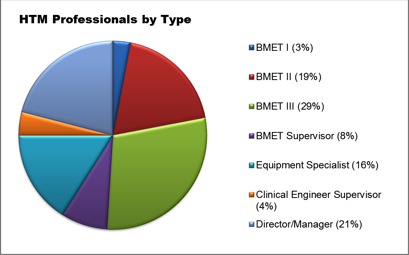 A total of 182 HTM professionals completed the survey. Of that total, 67% identified themselves as a BMET I, II, or III, or as an equipment specialist. A large majority of the respondents, 63%, reported that they work for a nonprofit healthcare facility. Thirty-eight percent reported that they work at a healthcare facility with more than 301 beds. Just 12% indicated that they work in a military or Veterans Affairs healthcare facility.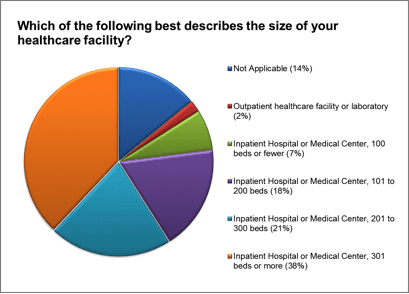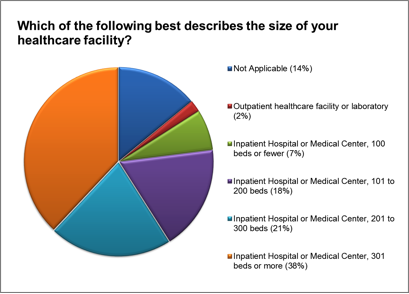 The Results
According to the results of the survey, the most common way that HTM professionals learn how to perform scheduled services and repairs on new medical equipment is through independent learning by means of reading the manufacturer's literature. The second most common way is by conducting online research.
The least likely, but most effective, way to learn about maintaining new equipment is via training that takes place at the manufacturer's facility. More than 35% of the respondents rated the training conducted at the manufacturer's facility as "highly effective," but in the last year, only 43% of the respondents were able to attend at least one course conducted at the manufacturer's training facility.
Two-thirds of the respondents said that lack of funding was the biggest obstacle to attending training at the manufacturer's training facility. Nearly 40% of respondents also indicated that lack of funding prevented manufacturer's training from taking place at the healthcare facility. One manager who took the survey wrote, "Our facility promotes [attending the manufacturer's training], but the costs have escalated to the point of not being affordable. I have 12 technicians on my team. Typical OEM training is about $5,000 per week, including expenses. For each tech to get one class per year would be approximately $60,000 per year. Our training budget is less than half of that."
More than 40% of the respondents indicated that they did not complete any new equipment training in the past year in any format other than reading the manufacturer's literature independently. A BMET III who took the survey wrote, "Managers blame budgeting constraints, but we realize that they just expect us to train ourselves on our own unpaid time or muddle through hoping for the best."
Despite the growing number of online courses available to both IT and healthcare professionals, only a few manufacturers or healthcare networks have developed online courses specifically for HTM professionals. About 48% of the respondents indicated that they completed at least one training course conducted via computer-based instruction (virtual, e-Learning, webcam, etc). A manager who took the survey wrote, "We definitely need greater access to computer-based instruction—DVDs, on-line computer-based competency reviews, and modality modules would be great, too."
Fluke Biomedical, Codonics Inc, and the US Army are just a few of the companies that have developed e-learning courses and instructional videos for HTM professionals. These instructional courses and videos are concise, and provide very specific instructions for a particular test or procedure, such as performing an occlusion test using the Fluke IDA 4 Plus or changing the power supply on the Cordonics Horizon Printer. Some of the training can be accessed via a smart phone or tablet.
Training Costs
A BMET III who took the survey wrote, "The price of training is ridiculous. Manufacturers need to develop computer-based training and make it available for a nominal fee to institutions that purchase their products." According to a study published by the Chapman Alliance in 2010, an hour of in-person training led by an instructor costs on average $5,934 for a company to develop. An hour of e-learning training costs on average $10,054 to $18,583 to develop, depending upon the complexity of the training material.
While the development cost for in-person training is half of that for online training, the ultimate cost per student of online training is far less. Instructor-led training for HTM professionals is typically limited to a class size of 20 students or fewer, and will only take place three or four times a year. Computer-based e-learning courses can be repeatedly accessed by thousands of HTM students at any given time. Although e-learning may not provide the same level of hands-on training as instructor-led training, e-learning courses are always available, allowing the HTM professional to access a particular lesson when needed to review a specific calibration procedure or repair. This is particularly useful when performing scheduled services on complex but rarely seen items of equipment.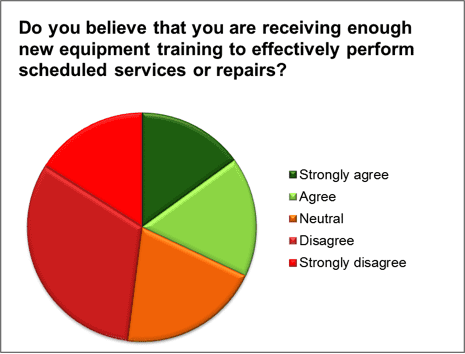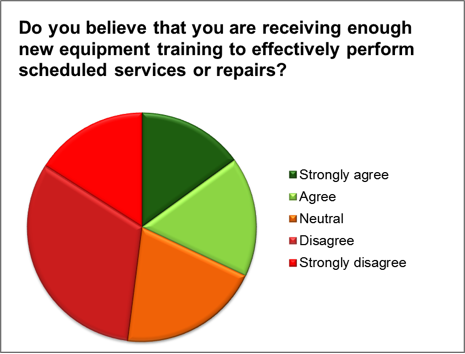 Regardless of the method of training, 48% of the HTM professionals who took the survey indicated that they do not think that they are receiving enough new equipment training, compared with 32% who said they are receiving enough to effectively perform scheduled services or repairs. A manager from a small for-profit healthcare facility wrote, "This business is not what I got into 30 years ago. It is getting dangerous with the lack of training."
 Troublesome Trends
Although the findings of this survey are generalized and cannot be applied directly to any one organization, managers should use the survey to determine the effectiveness of their own training programs. As HTM budgets continue to decrease, justifying the training is becoming increasingly difficult.
Rather than focusing exclusively on the return on investment (ROI) for a particular training course, managers may also need to illustrate how little training is actually taking place. I found the results of the survey astonishing, and I am sure that if other professionals outside of the HTM field review the results, they too will be disturbed by the lack of training that is taking place. 24×7
Joe Mandell is an equipment planner with TEAM Integrated Engineering in San Antonio. Joe retired as a Master Sergeant from the US Army in 2010, after serving 20 years as a biomedical equipment technician. For more information, contact 24×7 editorial director John Bethune at [email protected].