Covidien, a global provider of health care products and patient monitoring and respiratory care devices has completed the company's largest capnography installation connected to a centralized remote monitoring system at the Medical Center of Central Georgia (MCCG).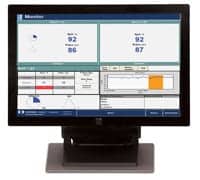 MCCG's new 7,583-square-foot logistics hub now incorporates a solution that provides connectivity to Nellcor N-85 pulse oximeters with capnography. This allows MCCG's clinicians to continuously monitor patients' ventilation and oxygen saturation levels, through EtCO2 and SpO2, even when the clinician is not at the bedside. Remote monitoring of a patient's respiratory status helps clinicians to identify changes in ventilation and oxygenation sooner and respond faster to adverse events.
The OxiNet III remote monitoring system and Nellcor N-85 monitors with Oridion Microstream capnography address the recommendations put forth by regulating bodies calling for continuous monitoring of ventilation of hospitalized patients receiving opioids postoperatively.
The OxiNet III remote respiratory monitoring solution provides customizable systems that effectively monitor any floor in a facility. Relaying data from the bedside to a central station like MCCG's logistics hub creates a remote respiratory monitoring system. If a patient's EtCO2 or SpO2 levels dip below the accepted level, clinicians are alerted via visible and audible alarms at the central station.