Service contracts afford peace of mind regarding the maintenance of your medical equipment. A smart service contract does not start with what the vendor writes into it, but with what you as the equipment owner first know about your own collective needs. Before even sitting down to review written options, a hospital must have a thorough and detailed equipment inventory with individual device-performance histories and service records in order to navigate toward the best decision—which may include opting to forgo a service contract on particular devices.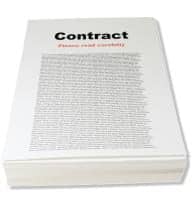 Smart service contracts fill the gap if an in-house clinical/biomedical engineering department has insufficient test equipment, manpower or responsiveness, or technical skills; or if an in-house program would require costly training or specialized test equipment; or if it would simply cost more than using contractor services. What makes a contract smart? Evaluating different contract types, knowing what services to include, what tricks to avoid, and how to negotiate additional discounts or training.
The core offerings of a service contract hardly differ from offer to offer, so a keen eye is all the more necessary in differentiating among contracts to find which is the most economical, peace-of-mind-ensuring package for all concerned—from the biomedical/clinical engineering department to department users and directors to physicians, and the c-level suite (CFO, CEO, COO, etc). To properly understand and respond to your need for a service contract, involve all related teams from the beginning, which in turn helps get all the right questions asked during the shopping and negotiating phases.
"It is important that the users of the equipment and tech services groups from biomed and IT standpoints have an opportunity to participate in the process," says Joe Medina, AAS, biomed department supervisor at Exempla Good Samaritan Medical Center, Lafayette, Colo. Well-versed in organizing such open communication, Medina is part of a team that analyzes the need for service contracts at his facility. The team ensures that all necessary considerations and evaluations are addressed, including decisions ensuring construction, workflow, and temperature and humidity factors of a room where a new imaging device is to reside.
For new equipment purchases, biomedical/clinical engineering needs to be involved in the vendor presentations, along with other department directors, to help encourage realistic vendor promises. The biomedical/clinical engineering department should in turn receive advance notice of new equipment purchases and items coming off warranty through regular attendance at materials management or environment of care meetings. Having sufficient notice allows for proper planning and research on contract options from device to device, preventing uneducated, hasty decision-making.
KNOW WHAT YOU NEED
Christopher Correll, BSEET, MS, TSGT, CE, assistant facility manager at Pope Air Force Base, NC, describes the contract types of varying coverage levels as full service, first look, preventive maintenance (PM) only, or parts only—also loosely categorized as gold, silver, or bronze service.
With a full service contract, the contractor provides all labor and parts. While similar to a full service contract, a first look contract allows biomeds the right to first inspect and repair the device if possible. Remote diagnostics may help if the biomeds are semitrained or cannot acquire training until a later date. Vendor engineers gain computerized remote access to the hospital's equipment through the hospital network and aid the on-site biomed through step-by-step diagnostics. These services can be extra or written into a contract, depending on the vendor.
A PM or parts-only contract places responsibility on the contractor for supplying the parts or performing the PMs, leaving the biomedical/clinical engineering department responsible for labor.
Regardless of vendor, Correll suggests that at the very least, any service contract for PM, calibration, repairs, or even one-time repair actions address and answer the following:
Medical devices to be covered;
Whether parts and supplies are included;
Whether technical support is included (telephone, remote diagnostics, etc);
Whether, if requested, a loaner will be provided, and at what cost, if any;
Estimated total cost;
Estimated travel and labor cost;
Contract coverage period;
Three different suggested sources or manufacturers;
Regular business hours;
Response time by contractor;
Frequency of service PMs and calibrations;
How the contractors will report to biomedical/clinical engineering (a sign-in and out log, for example);
Circulation of service reports;
Accurate documentation, specifications, tolerances, and results for PMs, calibrations, and repairs;
HIPAA's compliance plan and violation consequences;
After-hours vendor response procedures for security purposes;
Site visit by vendor within 30 days of signing to cover installation plans (layout, room preparation drawings, and instructions); and
Operator training from the manufacturer for both biomeds and users.
CUSTOMIZE COVERAGE
Deciding how to funnel all these inclusions into the right amount of coverage is as much of a task as any other in this process.
To know what contract coverage is best, examine your equipment histories and get multiple options from the same vendor as well as competing vendors. From a budgeting standpoint, it is good to know what an annual cost per piece will be. Blanket gold, silver, or bronze coverage need not always apply for a group of similar devices if their performance or reliability differs.
To customize coverage down to each piece of equipment, Medina reviews and discusses usage and coverage needs with the user groups. "If we have one CT, we may want 24/7 coverage, but with two, they may not need the same coverage if they perform differently," he says. "That's when you involve the user groups, asking which is used most and which provides the better images, and maybe that one gets greater coverage in the contract than the other." This formula will save on pricing without negligibly risking uptime security.
A close eye can catch other necessary adjustments, such as the excessiveness of 24/7 coverage on a gamma camera when patient cases are scheduled only from 8 am until 5 pm, for example.
Continue comparing your inventory's service events against vendor quotes. For newer inventory or planned purchases, use industry reports or ECRI, or counterpart customer references for data. Equipment with low service event counts in the first postwarranty year may be more economically supported by the as-needed time and materials (T&M) coverage instead of a contract. A side-by-side comparison of such choices may suggest lower T&M rates, but always be conscious of the vendor technician's relative location. Overlooking details such as excessive distance or commute time can tack on an immediate premium to every T&M event so much so that even a few throughout a year could end up costing more than a budgeted service contract would have guaranteed. Even so, stipulating technician proximity requirements in writing when going with T&M coverage is often a good idea.
Correll advises that the same goes for first look versus full service contracts; rates will differ, but predictable or risk-factored circumstances can show the higher-rate option to have less annual costs.
According to Medina, further event analysis can reveal other necessary changes to make come contract renewal. For equipment previously outlined with 8 am to 5 pm coverage that receives significant overtime repair, try negotiating 8 am to 10 pm if the projected cost is likely to remain stable or even increase.
Remember Correll's advice that, "Any excessive equipment downtime will far exceed the cost you should have spent for a contract to keep it up and running."
When it comes to imaging equipment, Biomed Manager Bill Keeley at Boulder Community Hospital, Colo, explains that because imaging is such a revenue center for an organization, you want to have very reliable service to guarantee the uptime. A longer 5-year contract can hold a greater advantage because of the covered high cost of parts. Longer contracts also lock-in prices, helping avoid inflation on labor-intensive equipment needing parts coverage. Vendors are prepared and have parts on hand for big ticket items, allowing for even faster response times for a "priority" long-term contract customer. Vendors also want to see the revenue stream and want to know their budget going forward, and often give the best prices with multi-year agreements.
When it comes to software, Keeley cautiously reminds that it could still be worth going under contract if the risk of facing software upgrade purchases down the road exists.
Mike Soleta, a senior biomed technician at Boulder, advises that there are two kinds of software—one developed by the vendor that changes the use of or upgrades the device and software that fixes bugs—and they are negotiable up front during the sale. Performance upgrades do not often come at a cost like an enhancement does. Keeley and Soleta suggest departments make a decision based on experience, research, and good judgment. If a reliable device can be maintained by in-house personnel without the need for likely software upgrades over the next year, generally the smarter move is to recommend T&M. Shorter-term contracts, such as 1 year, can provide advantages for equipment that will soon be replaced or cease being supported by the manufacturer. Discuss these in advance with department directors to learn about the addition of new technology and soon-to-be-unsupported equipment.
FINER DETAILS
"Opportunities present themselves in negotiating equipment; continue to ask for what you need," Medina says. "Purchasing 2 million dollars' worth of stuff gives you quite the leverage."
FOLLIES TO AVOID AND
KEY PIECES IN THE PUZZLE
Looking to negotiate a smart service contract that will help your department reach its optimal service goals? Know what to include and what to avoid and transform an ordinary contract into a smart service tool.
Negotiating training is a key area to include in a smart service contract. One route in gaining the free training is to take less of a credit on the trade-in and include a credit for the biomed education. Sales representatives have little flexibility with novation pricing but can usually adjust quotes when dealing with trade-in credits, extended warranties, or education. Should there be difficulty attaining a trade-in credit, consider donating equipment to organizations that help those in need and request one or two biomed courses instead. Vendors are often pleased not to have to take a trade-in. Deinstallation of replaced equipment, installation, and initial user training are typically part of the agreement with new purchases.
Consider scheduling training attendance right away so your biomed technician can shadow repairmen who come during warranty if the vendor permits. Be sure to uncover any clauses prohibiting your right to be present during contractor service events. Otherwise, consider scheduling training closer to postwarranty periods. Be clear whether your trained biomed can cross-train a backup on your staff. Some vendors have explicit agreements banning such activity. Ask in advance.
Do not:
Allow the vendor or another hospital department to reject your request to thoroughly review the prepurchase technical evaluations prior to signing;
Refuse your right to ensure contractual maintenance and parts replacement by monitoring contractor personnel during service events; and
Decline providing the clinical/biomedical department with the necessary skills, training, space, resources, or test equipment.
For a smart service contract, make sure to:
Negotiate access or pricing for required service keys or passwords or tools;
Ask for training, even for third-party biomed staff if not in-house;
Remove any expiration dates for you to achieve service or user training;
Indicate the vendor's obligation to provide promised training within a stated time frame;
Avoid invalidating the warranty or voiding any other contract provisions during system installation or repairs;
Avoid paying for expensive glassware coverage in the first reliable years;
Locate and understand the 60-, 90-, or 120-day out-clauses; and
Calculate in advance any potential retroactive charges should you fault under a long-term, discounted agreement.
—VM
Correll compares negotiating medical equipment discounts and trade-ins to that of car buying and suggests a department decide on its needs versus its wants, shop around, do research for empowered negotiation, include competitor offers, inquire about trade-ins and leasing, and always play hardball with the salesperson while remaining professional.
According to Keeley, find out if PM coverage is included in the warranty period. If not, address PM costs of warranty-covered equipment up front, and try to negotiate the longest warranty possible. Ask department directors how long they plan on having a particular device to help determine postwarranty or extended warranty terms. Often, vendors write postwarranty contracts at reduced rates, if written up front at the time of purchase.
If you can negotiate postwarranty training for something that will save or make you money by transitioning at that time to a parts contract, then review service and maintenance trends both in-house and contractor performed and opt for such a move instead of an extended warranty.
With continued biomed education bringing more work in-house, instead of a 1-year parts and labor contract, consider a 3-year parts contract. It is imperative to discuss department plans and do research on device performance before moving into postwarranty agreements early.
If significant price increases are quoted when contracts are coming up for initial implementation or renewal, Keeley encourages asking what the vendor's best cash price is if paid in full up front versus a payment stream over the length of the contract. Vendors may accept a lot less for a contract if the full amount is paid up front.
"Analyze all factors when determining whether or not contract maintenance is a viable alternative to training your own staff," Correll says. "In some cases, contract maintenance services are more readily available, economical, or higher quality than those the in-house maintenance activity can offer. In some instances, it is more cost effective to contract some or all maintenance on certain items. Review contract specifications, installation plans, and support plans during the authorization process."
When desired, training is almost always negotiable. Even if manufacturers do not regularly sell service training (which is different from user training), you can negotiate other means of education. Even a first-call or online distance training course that covers simple techniques such as power-up, power-down, removing panels, component identification, or cleaning procedures, can prove beneficial. With that minimum time of training exposure, a seasoned or cross-trained biomed can diagnose some potential problems at first call on a new device within his or her modality of expertise.
Vendor sales reps will deny the request for training opportunities, even when readily capable to provide it, especially if they desire first-responder contracts in the future from you. At the point of sale, the vendor sales reps may dodge acting on training requests by advising the clinical/biomedical engineering department to direct those requests directly to the service engineering department/operations of the vendor. If this happens, pass the responsibility right back to the vendor sales rep. Do not be afraid to talk about schooling at all points of the process, whether at sale or at renewal. According to Keeley, oftentimes, even when a vendor first says no to training, not only can you negotiate a paid training slot but you may be lucky enough to get travel and lodging covered as well. Work the numbers for what you want, and be persistent.
The key is to meld what you need as closely with the contract terms you are entering into by understanding both pieces through comprehensive review of active equipment maintenance history and team communication from preprocesses to postprocesses. There will always be one thing you could have done differently that comes up after even a smart contract is in place, but expertise within a diverse team helps prevent any extensive negative impact from possible oversights.
---
Veronik Minassian is a contributing writer for 24×7. For more information, contact .