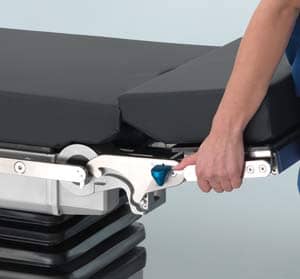 A new mechanism from TRUMPF Medical Systems, Charleston, SC, that makes attaching and removing its surgical table components easier and safer has been named a winner in the GOOD DESIGN awards competition.
The new TRUMPF EasyView component coupler was honored in the GOOD DESIGN Awards. The competition, founded in 1950, bestows international recognition upon designers and manufacturers for advancing new and innovative product concepts and for stretching the envelope beyond what is considered standard product and consumer design.
This most recent honor marks the third time TRUMPF has won the coveted award, having been previously named in 2007 for its iLED surgical light and again in 2008 for the AmbientLine environmental and task lighting system.
TRUMPF's winning entry was the direct result of extensive customer feedback and ongoing collaboration with health care professionals. According to the company, clinicians—often operating room nurses—are responsible for configuring surgical tables prior to a case by attaching specific components required for the procedure. When TRUMPF began designing is new TruSystem 7000 surgical table it solicited an unprecedented amount of customer participation. This collaborative process confirmed that among the clinician's primary concerns in working with surgical tables were safety, ease of use, and having lighter weight components.
As a result, the EasyView component coupler, a self-aligning connect and lock system, features an oversized latch hook and its mating component. This, along with its exterior placement, gives the user full visibility of the mechanism's locked or unlocked state. In addition, an audible "click" confirms a proper connection has been made. As part of the overall system, TRUMPF also developed a universal coding system designed to prevent accidental misuse of the wrong sized component in each configuration.