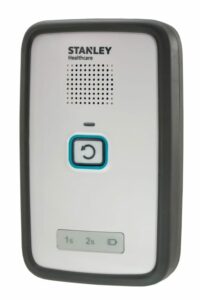 The M200 fall monitoring system from Stanley Healthcare, Waltham, Mass, is designed to prevent patient falls in both acute care and senior living settings. The device includes configurable settings to help reduce caregiver alarm fatigue and adapt to the needs of each patient.
"Falls remain a top safety concern for providers across the care continuum," says Mark Bisson, global solutions manager for fall management, Stanley Healthcare. "In our consultations with both hospitals and senior living communities, we heard clearly the need for a fall management solution that was easy to use, robust, and eliminated the need to keep multiple models for different uses."
Each M200 monitor accommodates two pads to ensure consistent monitoring as the patient moves between a bed and wheelchair or chair. Caregivers can program each monitor according to each patient's activity level with delays of 0, 1, or 2 seconds to improve alarm management. A 30-second hold mode and 2-minute suspend mode help prevent false alarms when moving patients between pads. The system can also be integrated with the nurse call station for central monitoring and response while leaving local alerts active or disabled.
The monitor can be mounted on a wall, headboard, side chair, wheelchair, or in a restroom as needed. It features a simple user interface with a prominent reset button, colored LEDs, and graphic indicators that display alarm status, delay setting, and battery status. An automatic voice message confirms proper configuration during setup so that caregivers know settings are correct. Caregivers can also record a brief message that plays when a patient attempts to stand, urging them to wait for help.
For more information, visit Stanley Healthcare.