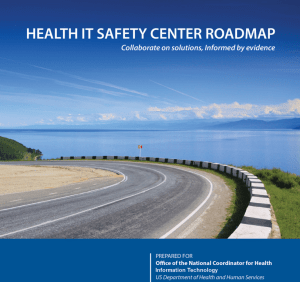 According to a report from the Office of the National Coordinator (ONC), plans are being laid for a national Health IT Safety Center to improve the growing use of information technology in hospitals and other healthcare facilities. The estimated cost of establishing such a center is $17.8 million to $20.6 million over 5 years.
In the report, Health IT Safety Center Roadmap, released by the ONC for Health Information Technology, the organization writes that the planned Health IT Safety Center "would accelerate establishing a culture of safety throughout healthcare and a national learning system that enables health IT and its users to generate better and safer patient care outcomes." The idea for such a center was initially brought forward in a series of proposals, beginning with a report by the National Academy of Medicine (formerly the Institute of Medicine) titled Health IT and Patient Safety 2012.
Healthcare providers have been adopting and using electronic health records (EHRs) at a rapid pace, which has benefitted patients by giving them "quality and safety improvements from electronic ordering, decision support, results reviewing, and other EHR functions," the ONC said in the report. "At the same time, safety organizations and researchers, health IT users, and other stakeholders have found risks and hazards to patient safety associated with these systems and the complex environments in which they are implemented and used."
According to the ONC, it contracted with RTI International to create the roadmap. The independent non-profit institute, headquartered in Durham, NC, convened a task force of expert public and private stakeholders, including safety researchers, patient advocates, healthcare providers, health IT vendors, medical liability and health insurers, and government officials.
"The task force helped identify the key areas for a national center, which include collaborating on solutions to address health IT-related safety events and hazards; improving the identification and sharing of information on health IT-related safety events and hazards; reporting on evidence on health IT safety and solutions; and promoting health IT safety education and competency of clinicians in the appropriate and safe use of health IT," the report said.
"The format envisioned would promote more safety content being disclosed in an environment of collaboration and shared purpose," Andrew Gettinger, MD, chief medical officer, and acting director of the ONC's Office of Clinical Quality and Safety said in his July 17 blog post.
The proposed center, which is described as a public-private partnership, would be funded by federal seed money for the first 5 years. As outlined in the report, during that time, the center's executive director would work with the advisory board and others to develop a sustainability model to support ongoing operations.