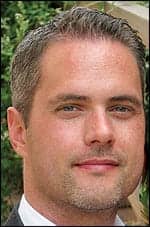 Jason DiFraia
Welch Allyn has been partnering with the clinical/biomedical engineering community for more than half of its 95-year history. Today, the company primarily focuses on products for frontline care, spanning both the primary care and acute care markets. Recently, the company announced plans to significantly enhance its service and educational offerings in the spirit of helping biomeds do more with less. 24×7 recently spoke with Jason DiFraia, senior global category manager, services and solutions, and Keith Boyle, director of global service engineering and service delivery for the United States and Canada, about these new service offerings, as well as online training, quality control, and what has been on biomeds' minds lately.
24×7: What new service offerings are you working to develop?
DiFraia: Initially, we're going to be launching three new categories of services that focus on support, education, and professional services. For support services, we're going to have two offerings: First, a program offered to our small clinics and doctor's offices with limited or no biomedical resources. This offering is called the comprehensive partnership program. It will entitle customers to additional support features that provide the levels of service our customers require given the challenges small practices face today, such as the need for remote service, accessory protection, loaners, and faster turnaround times. The second service product we're launching is called the biomed partnership program. This program enables biomeds to keep certain Welch Allyn devices in-house and gives them the tools and parts they need so that when a device either fails, needs calibration, or an update, they can fix it on-site without having to send it back to us (even under warranty). It will include online technical training for the authorization to perform service on specified Welch Allyn products, and entitles them to parts, faster turnaround times, software tools, and loaners when needed. It also expedites the service experience in general.
The professional services are for our high-end acute-based systems, like our central monitoring system and our Connex electronic vital sign documentation system. We have installation and integration services to help minimize issues associated with customers' EMRs. These services allow us to partner with our customers' IT and biomedical systems and staff.
24×7: Welch Allyn offers a number of patient monitoring systems. Can you talk about the latest advances in technology in this field?
Boyle: From a product standpoint, Welch Allyn is focusing in part on our FlexNet monitoring solution, which makes use of a facility's 802.11 standard wireless infrastructures to support the wireless transmission of patient data from a monitor—fixed or ambulating—to our central station. This provides customers with the ability to leverage the investment they've made in their standard 802.11 networks and allows their IT organizations to participate more in the support and administration of those systems. Additionally, we continue to add enhancements with regard to EMR connectivity, and also continue to make it easier for clinicians to receive alarms and updates from our central systems over PDAs.
24×7: What are some concerns or suggestions you've been hearing from biomeds lately?
DiFraia: Since our products have accessories that go with them, we often hear biomeds ask for some cost protection around accessories in their service agreements. The more predictable annual expenditures are, the easier it is for our customers to budget for future needs. As an example, one feature of our new service agreements may include accessory protection, which would entitle the device under agreement to a free accessory (if broken, one per year), or maybe a discount on other certain accessories. Other concerns are loaner devices and parts when needed. In addition to loaners, turnaround time was a big factor for biomeds. Biomeds want it fast and on time, so we've made enhancements in our operations and in our logistics to help improve turnaround time.
24×7: With so much talk about ISOs, why should biomeds continue to look to OEMs for service?
DiFraia: Obviously, there's that peace of mind. Customers can be assured that the service they're getting, whether it's from a technical engineer here at Welch Allyn or a replacement part, has been authorized and that the techs have been trained and are following the regulations set forth by the FDA. We can also help with certifications and we're going to calibrate a device to make sure the customer has the right calibration tools in place.
Boyle: What we do, and what a lot of companies do, is strive to have a high-quality, highly regulated experience with our customers. The way we do that is oftentimes through the use of tooling: specialized applications and specialized procedures. The only way we provide access to those is through our biomedical programs and the associated trainings that go with those programs. I think the only way customers can assure themselves that they're receiving the value and the performance they're paying for is by dealing with the manufacturers or biomedical engineers that have been authorized and trained by the manufacturers, because they're bound by the regulatory requirements and by the quality systems that they're forced to carry. One may not find the same levels of regulatory scrutiny in all of the ISOs that are out there today.
24×7: What options exist for hospital biomeds interested in being trained on Welch Allyn equipment?
DiFraia: We'll soon be releasing new service programs, including online training, which a customer can purchase bundled in with a service agreement to support all their devices. Customers can log in, take a class, and test out to become trained on our equipment.
They can also come to Welch Allyn in New York or Oregon, and depending on the product they want to get certified on, they can spend anywhere from 1 to 3 days here. We can also send a Welch Allyn trainer out to do the training on-site, if there are enough students to warrant that expenditure. We'll take the customer through a hands-on training course and teach them how to break down the device, put it together, service it, calibrate it, verify it, and get it back into service.
24×7: Are these new training options contingent on signing a service contract?
Boyle: It's not contingent, but there are incentives to enter into a service agreement. We're providing additional value such as accessory protection, parts, and lower price points for the training itself when it's part of a service agreement. We do offer the on-site training alone, but it's a little bit more expensive.
24×7: Some OEMs are very proprietary about their training. What makes Welch Allyn more open?
Boyle: We've done this because of quality and safety. ISOs and outsourced biomed offerings are going to exist whether we provide training programs or not. Our feeling is that we'd rather have the customers have a quality service experience and have safe products to use on their patients.
24×7: We've been hearing a lot from biomeds about the increasing number of recalls they have to deal with these days. Can you talk about your quality control process to prevent issues before release?
DiFraia: Our QA/RA team is very particular about when we release a product. We actually have a stringent phase-gate process that our engineers, service folks, and product managers have to go through in order to make sure this product is ready to go to the next phase of our product life cycle. Within each of those steps, there is a QA/RA element where we have to follow specific guidelines before we can move on.
Boyle: We're cognizant of the fact that poor quality costs companies two to three times what it would cost to do it right the first time. In our case, there is no risk-reward here around putting quality at risk, so we're going to focus on quality because it's part of our brand, part of our customer satisfaction, and part of what we want to be known for as a company.
We focus heavily on minimizing adverse impact on our customers, and we'll use exchanges or whatever other kinds of vehicles we can in order to make sure it isn't a burden for them.
24×7: Some hospitals seek refurbished instead of new equipment these days. How is the company adapting to this?
Boyle: At the moment, we don't provide or support refurbishment programs, but I think it's something we'll be looking at as a potential future opportunity. We do understand it given the economic pressures that are occurring in the medical device area.
24×7: How is feedback about devices, such as suggestions or concerns, evaluated?
DiFraia: Based on feedback, we conduct focus groups, online research, and I've personally traveled and listened to our customers. We interact daily with our sales reps who, in turn, interact with biomeds. We also gather information through our customer and technical service reps. If common themes or ideas rise to the top, we will do some in-depth analysis based on the feedback. We test it by putting concepts out there in focus groups and asking if we are on track. If a concept, improvement, or idea works out, we will actually start to develop a solution. There's more to it than what I just stated, but at a very high level that is what we do.
24×7: Tell us about your history and how you got started with the company.
DiFraia: Today is actually my 1-year anniversary with Welch Allyn. I came from Sun Microsystems, where I worked for 11 years managing a variety of different service products, including their proactive services. Prior to this I managed service programs at HP and Johnson & Johnson. I came to Welch Allyn for three reasons: The first was its location in Skaneateles, NY (you'll have to Google that); the second for the opportunity to work for a great family-owned company; and third, to start and implement a new product category for Welch Allyn: global services and solutions.
Boyle: I've been with Welch Allyn for about 3 years. I came to Welch Allyn after spending 19 years in the systems and ERP [enterprise resource planning] integration space. I have been helping Welch Allyn develop the systems side of its business, focusing on enhancing our service delivery and service capabilities.
---
Stephen Noonoo is the associate editor of 24×7. Contact him at .