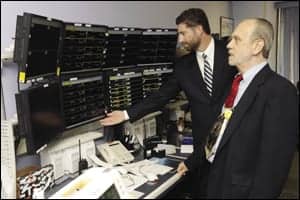 L-R: Gene H. Winfrey, director, biomedical engineering and imaging support, and William Cannella, CBET, supervisor, biomedical engineering, check a telemetry readout.
A good clinical/biomedical engineer is a problem-solver at heart. If a piece of equipment does not work, a bit of logic and experience can usually get the job done.
At University Hospital in San Antonio, creative solutions went way beyond repair into the realm of redesign. It all started when manufacturer Philips Healthcare delivered a defibrillator stand that was too short, a seemingly small problem that led to large difficulties when it came to sight lines and access. The prototype as delivered had never been used in the field before, and while it had no doubt passed muster in manufacturer testing, it was not working in the real world.
"With 11 units in constant use in a busy environment, it was difficult to view the display easily through raised stretcher rails," says William "Bud" Cannella, CBET, supervisor of biomedical engineering, who oversees a department responsible for 21,000 pieces of equipment over an expanse of 1.2 million square feet. "The OEM pole mount was too low, and an alternate capable of increasing the height, while maintaining stability, was not available anywhere."
Unlike many facilities that put defibs on crash carts, clinicians at the University Health level 1 trauma and emergency center use roll stands in patient areas, and take the units off to other transporters when moving to x-ray and elsewhere. Cannella needed a solution and assigned Joseph D. Harwood, biomedical engineering technician, to find one. Harwood contacted a mounting hardware manufacturer and worked with it to modify the cart.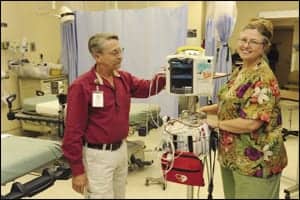 L-R: Biomedical Engineering Tech Joseph D. Harwood and Barbara J. Wright, BA, LP, EC operations manager, with the newly designed defibrillator stand.
With two modified prototypes, they tested out the new design in the University Hospital emergency center (EC), which sees about 70,000 patients per year. "We settled on a design that would protect patients and staff in a hectic environment, and the Philips people took a serious look at it," Cannella says, who has spent 30 years as a biomed and just short of a decade at University Hospital. "Much to our delight, Philips adopted the taller cart, and we have had no incidents of defibrillators tipping over."
In other words, the Heartstart MRx roll stand kit, as originally conceived by Andover, Mass-based manufacturing giant Philips Healthcare, no longer exists. Instead, the redesign from biomeds at University Health is the new worldwide standard.
A three-page GCX Mounting Assembly Installation Guide offers valuable assembly instructions and stands as a monument to the can-do attitude of the University Health System's (UHS) 21 biomeds. "We took it upon ourselves to step up on behalf of our patients, medical staff, and the facility," Harwood says. "I believe that each and every one of us has the responsibility to look at what it takes to be as efficient and ergonomic as possible."
James "Jim" Magers, lead technician, had little doubt that Philips would like the redesign. "Joseph offered them the solution, and they just had to accept it," Magers says, who has also been in the biomed field for 30 years, part of that with the military. "We did most of the legwork on this end and turned it over to Philips for their acceptance. It helps that our in-house biomeds truly understand the customers' needs from an engineering side, and we take the initiative to push for solutions that make those end users happy. Those are the kinds of unsung heroes we have here."
Ultimately, the department expanded the number of defibrillators, while at the same time rolling out a wireless connection that served as a central station between the EC and catheter lab. "We are hooking up with our local San Antonio fire department to get the wireless sent in to our EC," Cannella says. "That little stand snafu was merely a seed that represented what can be done when the biomedical department cooperates with the EC."
Harwood took justifiable pride in altering and improving on the original Philips design, and department managers made sure the hospital heard about the cooperation between biomedical engineering, the manufacturer, and clinicians. "Even departments such as risk management and the product evaluation committee did not see or know the real-time needs of the end user," Harwood says. "Instrumental in the entire design process was EC Operations Manager Barbara J. Wright, BA, LP. So today, the unsung heroes of this quite covert operation prevailed, and the outcome was as beneficial to the patient as it was to end users."
UHS Listens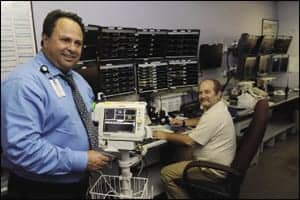 L-R: Senior BMET Eddie Cervantes and Dilso Gomes in the central monitoring room, known at UHS as the "war room."
An organization can ultimately add to its success by listening to members of its departments, which happened at University Hospital when it came time to redesigning the defibrillator stand. Choosing the right equipment, for instance, is never easy, but UHS officials make things a little easier by consulting a biomed before finalizing purchasing decisions.
With so many brands to choose from, how do hospital officials determine which equipment to buy? At UHS, they ask a biomed. In fact, biomedical engineering has long been a key resource for UHS when selecting the right product for the correct application. Each product is reviewed and/or evaluated through a "committee board" made up of 50 nurses, technicians, physicians, and usually one member of all patient handling areas within the hospital.
The biomedical engineering technician on this panel is Senior BMET Eddie Cervantes, who researches product performance, product failures, and maintenance costs/upkeep. For example, when evaluating the Sure Signs VS3 vital signs monitor, Cervantes noted the following key advantages:
It operates on existing hospital Wi-Fi systems, using standard 802.11 b/g technology, and transmits data in HL7 format;
It offers an easy upgrade path wirelessly;
It eliminates the need for manual entry of vital signs data into an electronic medical record (EMR), allowing for timely and accurate updates along with a comprehensive selection of patient ID fields;
It measures time stamp and alarm indicators; and
It clearly indicates which records have been exported.
Administrators asked biomedical engineering to locate a solution in the telemetry system and find a better way to provide critical long-term patient data storage—beyond the normal 72 hours. Biomedical responded, and soon UHS will have a clinical storage system that will house patient data for longer than 72 hours. In addition, clinicians or researchers will have the ability to easily access, review, analyze, and manage that information from any hospital PC/workstation, or remotely from office or home.
Finally, Cervantes and the biomedical engineering staff have been the driving force in selecting the critical and highly used radio frequency identification (RFID) system at UHS. This system has helped the nursing staff locate unused equipment faster than going to central supply.
UHS has installed more than 2,000 RFID tags on the medical devices that include pharmacy medicine refrigerators, alternating leg pressure devices, ultrasound machines, and Alaris modules. The entire clinical nursing staff can research medical equipment from any hospital PC or workstation.
A Big Umbrella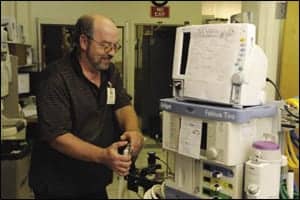 James Magers, lead technician, works on an anesthesia machine
The continuing marriage of information technology (IT) and biomedical repair is well documented, and across the 22 sites that represent UHS—the third largest public health system in the state of Texas, which includes University Hospital as the state's only magnet facility—the biomed department and IT/IS departments are one and the same.
"If melding the two departments happens in every institution like it has here, it would be an inevitable benefit to biomedical engineering across the country," says Gene H. Winfrey, director, biomedical engineering and imaging support services. "I understand there are a lot of hospitals that are not as large as we are, and may not have the IS support that we have, but overall the arrangement is a lot more natural. Better communication has led to improved workflow, a phenomenon that has only saved valuable time."
Inevitable overlaps in training are now identified quickly to maximize cost savings. For example, Cannella says that seven technicians are now in training on a vital signs monitor. "Currently, we are rolling out a wireless vital signs monitor, and we will be doing wireless vital signs, bar coding patients, and automatic transferring of the vital signs into the EMR—all while eliminating errors and reducing the workload on the clinical staff," he says. "Without IS' cooperation, the biomedical department would not be able to pull it off. We don't have that technical background and probably never will. There is so much going on in the IS world today that it requires cooperation. Being in the actual IS department is a real advantage to get these things done, and get them done quickly."
As one of the nation's "top 25 Connected Healthcare Facilities," UHS is one of the most wired, and most wireless, facilities on the planet. With a rock-solid IS infrastructure behind them, UHS biomeds are able to do things such as wireless connections with ambulances on a countywide basis.
Less glamorous functions such as parts acquisition, which used to be completed on paper and sent off to the purchasing department, can now be done electronically between different offices and different buildings. "If we need to, we can get a purchase order number and a purchase under way in a matter of hours," Cannella says. "It used to take a week to carry these pieces of paper around."
EMR systems are not technically mandatory under provisions of the recent federal stimulus bill, but facilities big and small that fail to go electronic could miss out on incentives and/or receive some penalties in the future. Sophisticated EMR systems are almost old hat for University Health, but there is no doubt that this technology drives even more cooperation between IS and the biomeds. "We are trying to take our biomedical equipment and other devices and connect them so that we can grab data and place it into the EHR," Winfrey says. "The ultimate goal is to reduce the burden on nurses and doctors and increase their efficiency. Biomed needs to be in IS because IS has that infrastructure. They have the systems that are supporting the applications that must connect to all these medical devices."
Problems will inevitably crop up until the paradigm shift is complete, because integrating these systems and applications is inherently tricky. "Sophisticated systems gather data," Winfrey says. "The key is to get that information and place it directly into the patient record."
---
Greg Thompson is a contributing writer for 24×7. For more information, contact .
University Hospital: A Community Fixture
More than 90 years ago, the city of San Antonio and the county of Bexar quietly opened the Robert B. Green Memorial Hospital to provide medical services to the community's indigent. In 2010, the University Health System (UHS) has grown to become the third largest public health juggernaut in the state of Texas.
Among the 5,000 employees and 700 resident physicians, a staff of 21 biomeds keep a whopping 21,000 pieces of medical equipment whirring in tip-top shape. With an operating budget of $848 million for 2009, University Hospital operates about 400 acute care and specialty beds and serves as the lead level I trauma center for a 22-county area of South/Central Texas. UHS' outpatient and main facilities provide primary care and specialty outpatient care throughout Bexar County.
Technically owned by the people of Bexar County, UHS is a nationally prominent academic medical center and includes a network of 18 outpatient clinical locations across the community. These facilities serve as the main teaching locations for the University of Texas Health Science Center at San Antonio. Faculty physicians at the University of Texas Health Science Center School of Medicine rely on biomeds to maintain some of the most advanced medical equipment in America.
With support from the UHS board of managers and the Bexar County Commissioners Court, officials have begun work on an $899 million capital improvement program to fund new structures. Targeted for 2012, the new construction will expand capacity at University Hospital to support the Level I trauma center.
A new urgent care and diagnostic treatment building will also be constructed at University Health Center (downtown) to provide even more specialized care outside the hospital, while bringing top-notch care closer to home for many patients. According to William "Bud" Cannella, CBET, supervisor of biomedical engineering at UHS, the main building is 30 years old and the new structure will be a 786-bed tower.
With the luxury of building from scratch, Cannella is confident that the newly minted tower will feature all the technological capacity that builders from other eras could not even imagine. "Modern requirements demand that we have an infrastructure that allows connectivity to exist everywhere," Cannella says. "Our department is converting over to laptops that are operating wirelessly, so we have to have connectivity here and throughout our 22 locations."
A fully integrated electronic medical record system unites all locations, a feat that earned UHS a place among the top 25 connected health care facilities, as ranked by two national magazines. Hospitals & Health Networks magazine, along with the American Hospital Association, also named UHS as one of the 100 most wired hospitals in the nation.
—GT