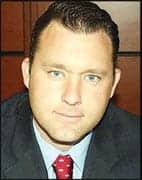 Peter Bonin
Peter Bonin and Brand Caso founded Tenacore, Santa Ana, Calif, in 2000 as a distributor supplying products and services to hospitals, medical centers, and third-party service providers across the nation. Since then, it has grown into a large manufacturing and service center for vital signs monitoring accessories. 24×7 recently spoke to co-founder and CEO Peter Bonin about products, quality, and what makes Tenacore unique.
24×7: What duties do you typically perform for the company?
Bonin: As CEO, I advise our director of operations and interface with the sales director, engineering staff, and quality assurance team. Working closely with our management team has allowed me to focus on company growth by participating in new OEM projects and expanding our service offering.
24×7: What do you consider as the secret to your company's success?
Bonin: Investing in our quality department and our customer service center has given us a tremendous advantage, which has resulted in customer retention.
In addition, we have brought all manufacturing in-house. Our engineering staff has the ability to design, prototype, and run production under one roof. This enables Tenacore to produce and launch products in a short amount of time.
What makes Tenacore unique is our ability to maneuver quickly to adapt to our customers' needs.
24×7: What types of products does your service center typically work on?
Bonin: Tenacore's repair service component covers several departments within a hospital. Our service center works with wall section regulators, O2 blenders, fetal transducers, pulse oximeter finger probes, infusion pumps, bedside monitor repair, module repair, telemetry repair, and rigid and flexible endoscopes repair.
Tenacore also offers a line of OEM-compatible products that include fetal transducers, SpO2 finger sensors, EKG cables, and O2 blenders. We sell our new product line direct and through distribution.
24×7: How does the company ensure it is performing quality repairs on OEM products?
Bonin: Tenacore's QA department creates or duplicates the OEM policies and procedures for each product. Once the procedure is complete, the engineering manager or department supervisor ensures the procedures are being followed by completing the proper documentation forms for the QA department to audit.
We expect our quality to start on the front line in all departments, including engineering, soldering, production, and on through our shipping department. Our QA department has a separate office within our building and has the authority to make quality-related decisions. The idea is we catch all quality-related issues prior to the product leaving our facility.
24×7: What are some of the products Tenacore plans to introduce in the near future?
Bonin: The newest product will be the O2 blender; that will be launched December 1, 2008. We will be launching our new wall suction regulator on March 1, 2009.
In addition to our OEM product, we are always manufacturing new parts to support our service center. We offer these new parts to all our customers as they become available.
24×7: Guide us through the process of developing a new product.
Bonin: Why don't we take a look at our new wall suction regulator for an example. Our engineering team gains a large portion of the knowledge from our service center. This is usually our starting point because this view enables us to take a close look at working units that have been in service for many years. We take special note of the portions that hold up or fail in the harsh environment of a hospital. Our mechanical engineers have become specialists at utilizing existing technology, resulting in a superior hybrid product.
In order, our product development starts with product selection or idea, market analysis, engineering development, cost analysis, prototype, tool building, prototype production, clinical research, certification, and product launch.
24×7: What's your calibration and testing process like?
Bonin: We try to emulate the hospital setting. Our service center has over 80 calibrated patient monitors that you would find in hospitals. In addition to our OEM monitors, we use oscilloscopes, Huntron, Fluke, Pronk, BC Biomedical, central stations, SpO2 simulators, and software programs that help our techs identify problems quickly and effectively.
24×7: How does the company plan to grow in the near future?
Bonin: We will continue to grow by expanding our service center and continuing to develop new OEM product. We will continue to invest in manufacturing equipment and hire qualified personnel that will complement our exceptional staff. We look forward to serving our customers for years to come.
---
Stephen Noonoo is associate editor of 24×7. Contact him at .