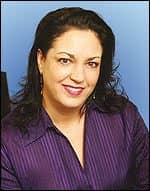 Julie Kirst, Editor
I am ready for this year to be over!" Have you heard that from people? I have, and although 2009 may have been a stellar year for some, many people I've spoken to say they are happy to say good-bye to 2009 and they are ready for a new—and improved—year. The start of a New Year also means we are likely to mark it with some new personal and professional goals. When it comes to your professional aspirations, 24×7 has numerous offerings to help you plan your strategy.
In Print: Our monthly print magazine focuses on the compelling topics dominating the industry and gathers knowledge from a variety of expert sources to give you comprehensive information. Covering such areas as training, certification, service challenges, management issues, products, and department profiles, 24×7 is a strong educational tool. With IT convergence remaining a crucial issue, we hope you'll look to our monthly Networking column for guidance through the uncertainties you face and the questions you have regarding connectivity.
In addition, all our issues are available in our archives. Using the search tool on our Web site, you can locate past articles easily.
Podcasts: In 2010, our online offerings will continue to improve. At the AAMI conference last year, benchmarking was a buzzword, and in August we hosted a three-part podcast on the subject that provided a road map to help departments understand benchmarking and decipher its key components.
Online Classifieds: Are you ready for a move or a new challenge? Check out our online classifieds. Only a click away, 24×7's classifieds will help you connect with employers looking for your skills.
E-newsletters: We've expanded our successful, weekly e-newsletter, Weekly Jolt, and now offer more news to keep you informed about recalls, products, industry happenings, and association news. We also started a Monthly Top Ten e-newsletter to let you know about the top stories of the month, so if you missed anything, you can catch up on your reading.
Online Calendar: If you are involved in an association, we have so many ways for you to get the word out about your meetings and events. Enter it in our online calendar, send the news directly to me for inclusion in our online news or Weekly Jolt, become a fan of 24×7 on Facebook, and follow us on Twitter and share your news. You can also post photos of your events on Facebook for everyone to see.
Blog: Our best practices blog shares ideas on better ways to accomplish your tasks and includes comments and suggestions from your peers. We'd like to hear from more of you next year; I encourage you to send your own "best practices" to me, and I'll post them on your behalf.
White Papers and More!: Another recent addition to our site is our White Paper Download section. Reliable reports or guides, white papers often contain research information or speak to specific issues and provide answers to problems. A solid educational tool, white paper access on our site is free.
Don't forget that if you have ultrasound or MRI coil questions, our Expert Insight section will get you answers—and it's free! With regular updates to our news section, our online Buyer's Guide, polls, and archives, our Web site is a veritable treasure trove of information and education.
As our 2009 compensation survey continued to reveal, you are proud of what you do and your commitment to advancing patient safety is part of your daily life. In 2010, 24×7 will continue to mirror your commitment by recognizing the critical work you do and bringing you content that will enhance your work and give you fresh career perspectives.
Julie Kirst