During the last weekend in October, the media reminds us that it is time for our clocks to "fall back" 1 hour. After all, we want to make sure that we do not miss Sunday services at our local church, the taping of our favorite television show, or even the kickoff of our favorite NFL football game. Although there are a number of us that are fortunate enough to have the latest and greatest satellite-driven clocks and devices, the most likely scenario is that many of us scurry around the house changing the time on our clocks, VCRs, and microwaves on those two Sundays per year, trying to make sure that we have the correct time moving forward. Fortunately, the majority of our home computers change time right on cue without any human intervention.
Since the Uniform Time Act of 1966, many clinical/biomedical departments spend the Mondays after the time change in April and in October canvassing the hospital, changing clocks on defibrillators, physiological monitors, ECG machines, and any other medical equipment that needs the time changed. In some instances, biomedical departments change clocks for the entire hospital, not just medical devices. In years past, this process has not created a big issue, as the standard for critical medical records was kept on paper. Time deviations were easily corrected with a pen and initials after the fact.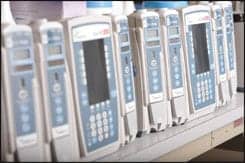 Smart infusion devices cannot automatically change time until the infusion is complete. As a result, corrections need to be made in a timely, proactive manner.
Due to the increase in microprocessor technology, many of our medical devices have internal clocks and display the time in some form (LCD, paper recordings, internal log files, etc). In response to potential issues regarding discrepancies due to time changes, biomedical departments have stepped up these critical time changes on medical equipment to Sunday afternoons instead of Monday. In addition, medical equipment manufacturers have begun to incorporate the daylight savings schedule into the internal clocks. This feature has helped reduce the demand to touch every device on time-change weekends.
The Energy Act
Prior to 2005, the above approach was reasonable in addressing time-change issues. However, the Energy Policy Act of 2005 mandated the change in time to begin at 2 am on the second Sunday of March and the first Sunday in November. A direct result of this change in weekends created the need for numerous software and firmware upgrades to be applied to medical devices previously programmed for daylight savings. Many departments spent time testing these devices to ensure automatic time changes happened on the appropriate weekend. Those devices that had no upgrade path had the daylight savings options disabled. This caused additional work, as technicians were required to manually change the time in each of these devices. Again, this passive approach to time change seemed reasonable.
However, now is the time for change! While the public may be gaining an hour of sleep in the fall, countless information system technology departments are working early Sunday morning to change the time on their computer systems.
As the growth of electronic medical records (EMR) continues, many more computer systems will need to be synchronized in a more timely fashion. It is critical for the interface engines between the medical record and the financial systems to be linked for accurate, complete, and efficient billing of test results. A billing clerk no longer does the billing process via inputting a patient charge Monday through Friday. Today, it is done electronically in real time.
In addition, the information feeding the medical record is coming from computerized nursing notes and interfaced medical devices. If your medical equipment is not tied to an EMR, it is only a matter of time. DICOM and HL7 are interface protocols carrying time stamps. These information feeds are critical to updating the medical record. There are interface engines ranging from admission, discharge, and transfer to result reporting, requiring bidirectional interface outputs to the EMR. Interfaces are continually being written for anesthesia machines, ECG machines, fetal monitors, hemodialysis machines, and countless other physiological monitoring devices.
A Critical Need
The reliance on an accurate, effective time change is more imperative than ever. The need for a proactive response to the time change versus a reactive response is critical. For example, a major billing and legal issue may be created when an order for an ECG is received in the medical record for 4 am and the ECG tracing and/or result for that order is time stamped at 3 am or 5 am. Many labor and delivery units are using fetal surveillance systems, where the electronic time stamp may be coming from the output of the fetal monitor. The anesthetic record is no longer captured via paper but is pulled electronically from the anesthesia equipment. Vital sign monitors are now being interfaced to the EMR. The time stamp from these devices is critical to matching patient data and results.
On the other hand, many drugs are currently delivered with precise rate and volumes. Electronic smart infusion devices cannot automatically change time until the infusion is complete. As a result, it is imperative to make these corrections in a timely, efficient, and proactive manner. The time needs to be changed and/or checked on all medical devices during the appropriate time change, not hours later when it may be more convenient for the clinical/biomedical engineering department.
Working Together
The future is now. The need for biomedical staff during the time change is evident. In response to this need, many information system departments temporarily shut down interface engines to ensure the correct synchronization of times. During this shutdown period, medical equipment clocks must be changed to guarantee the proper timing and sequence of results. This process is critical as we fall back or spring forward 1 hour each autumn and spring.
| | |
| --- | --- |
| | Read previous Networking articles in past issues in the archives. |
In a closing thought, perhaps our time for change is not in health care reform but in time change reform. As I write this article, our government is debating health care reform but maybe we really need to debate daylight savings time change reform. Any type of savings we gain in energy usage is being chewed up in labor and equipment costs associated with "springing ahead" and "falling back." We live in the electronic age where the use of electricity is constant. We may be better off eliminating daylight savings and the 3 am work force necessary to change time. As this publication suggests, we are a 24/7 operation. However, the first week in November, we are really a 24/6 and a 25/1 operation.
---
Barry Bruns MS, MBA, is the district manager, Ohio Valley, MasterPlan, Cincinnati. For more information, contact .