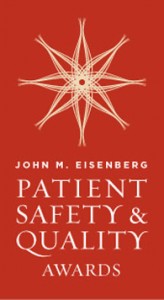 The Joint Commission and the National Quality Forum (NQF) have announced the 2014 recipients of the annual John M. Eisenberg Patient Safety and Quality Award, which will be presented March 23, 2015, at the NQF Annual Conference in Washington, DC. For 2014, three recipients have been selected from national, local, and individual categories, and will be recognized for numerous achievements in the field of patient safety and quality.
According to the announcement from The Joint Commission, the patient safety awards program, launched in 2002 by NQF and The Joint Commission, honors the late John M. Eisenberg, MD, MBA, former administrator of the Agency for Healthcare Research and Quality (AHRQ). Eisenberg also was a member of the founding board of directors of NQF. By all accounts, Eisenberg was a passionate advocate for patient safety and health care quality, and personally led AHRQ's grant program to support patient safety research.
The three honorees that have been announced for individual, national, and local recognition for 2014 include Mark L. Graber, MD, FACP, senior fellow, Health Care Quality and Outcomes Program, RTI International, who will receive the award in the "Individual Achievement" category. The American College of Surgeons National Surgical Quality Improvement Program (ACS NSQIP) will receive the award for its innovation in patient safety and quality in the "National Level" category. The Joint Commission reports that North Shore-LIJ Health System will receive the award for innovation in patient safety and quality in the "Local Level" category, thanks to its work on reducing sepsis mortality through a system-wide initiative it implemented from 2009 to 2014.
The May 2015 issue of The Joint Commission Journal on Quality and Patient Safety also will feature the achievements of each of the award recipients. For more information about the John M. Eisenberg Patient Safety and Quality Award, please visit The Joint Commission website.