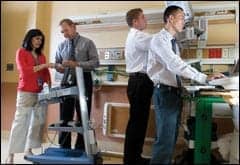 L-R: Chand Tahilramani; Arthur R. Bartosch, BS, CBET, director, biomedical engineering services; Jeremy Picinich; and Kevin Liang.
The old adage advises it is best to be careful what you wish for, because you just might get it. This is a lesson well learned by the biomedical engineering staff at Westchester Medical Center (WMC) in Valhalla, NY.
"There's a lot going on; in the last year and a half I've done more than I have in the last 25 years at this hospital—and very quickly," reflects Arthur R. Bartosch, BS, CBET, director of the hospital's biomedical engineering services. "And really, I get the ultimate satisfaction from just accomplishing a lot, but from a biomedical standpoint, from the fact that, when all is said and done, on the day of go-live—everything works."
Over the last few years, Bartosch and his team of biomeds have had ample opportunity to experience such satisfaction. After becoming a public benefit corporation and separating from Westchester County government in 1998, the organization re-invented itself. Complete with a new administration, a $100 million budget, and an ambitious long-term plan, the facility is now in the midst of a complete operational, technological, and infrastructural transformation, committed to serving the more than 3.5 million people in the surrounding seven-county Hudson Valley region and beyond.
The focus has been on upgrading existing systems and infrastructures, as well as bringing in modern, multitasking systems. Currently, the team is responsible for 11,200 active devices with more coming every week.
Purchasing Power
The first step in allocating funds was determining where they were most needed. For WMC, that was the least of the challenges.
"Our old pace at which you replaced technology was a slow one," Bartosch says. "What basically occurred was, all your capital planning was delayed. So really, you could almost throw a dart at a list of the systems in the hospital and come up with something in need of improvement."
His team's experience also played a factor. Working hands-on with the equipment gives the best insight into what is becoming problematic, what is becoming harder to find parts for, and what is at the top of the "wish list" for replacement.
This was the case for Chand Tahilramani, who, as the operating room biomedical engineer, quickly recognized that much of the equipment was outdated.
"When I first started there, I noticed that so much of the equipment was old and I could see the frustration of the nurses and doctors," she says. "I started looking at new equipment and reading up on OR equipment in journals, as well as talking with some of the nurses and surgeons, to find out what systems they were interested in getting."
Just as selecting a target for upgrade proved simple enough, so did systematically replacing millions of dollars worth of equipment, thanks to a straightforward approach that acted as a guideline for every phase of acquisition.
The first task was to define the scope of the project, being sure to attend to any ancillary changes that needed to be made to ensure the project was a success. Upgrading the hospital's entire line of EKG machines put the staff at WMC through these paces. Clinicians wanted to replace the existing system for higher-quality diagnostic EKGs. Upon closer inspection, however, Bartosch and his team expanded the project to improve several functions.
"Not only did we want to replace the old system, but in doing so, we were presented with the perfect opportunity to take the EKG wirelessly onto the floor," he says. This made it possible to transmit readings down the back to where the physicians were located. In addition, the new EKG units were capable of interfacing with the ADT records, the hospital information system, and the electronic medical record. "As a result, we are not only capturing the diagnostics at the bedside, but we are also capturing accurate patient information—all input is now being done by barcoding—and we are able to drop the bill so it is ready to be placed into the electronic medical record immediately," Bartosch says. "This is something that was simply not possible with the previous system."
Looking beyond the immediate need in this way is also what drove a change in the hospital's IT infrastructure. To better maintain the networking aspect involved with the new wireless telemetry system and other upgraded systems, the database servers were moved from their respective closets throughout the facility and centralized within the biomed shop itself.
"Doing this gives us access to all of the servers at once, without having to go to individual closets on each floor," Bartosch says. "Which means, if we have a loss of network somewhere, we don't have to go to every single database or every single router and switch. We can ping the appropriate network address right from the shop; we can see the entire system."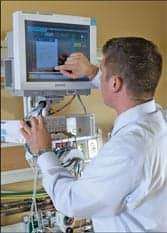 BMET Jeremy Picinich verifies the pressure transducer reading on one of the new MICU patient monitors.
It is also important for the initial planning phase and the end-to-end use model for the device or system.
"When we start a project here, we do a walk-through to see exactly what we want and how we want it to look," says Jeremy Picinich, biomedical technician. "We envision, before it even goes up, how it will look when it is finished. And when you begin to see how big the project is, you have to figure out who is going to be involved with the project and who is going to be affected by it."
Looping the client into the process early is vital for a happy customer at the job's end.
"You want to focus on the needs of the user and have the users be involved, because they can help you make decisions, such as: Where are you going to set things up? How are you going to arrange the equipment within the room?" he says.
Picinich gives the example of wall-mounted monitors. The only way to accommodate the needs of all of its users is to know how it works within the department. This information is already in the biomed's arsenal, but when swapping out systems, it's important to make sure the clinical staff is aware of any changes that will come with it and work with them to meet their needs.
Collaborating with the end users also helps ensure that they will be satisfied with the final product. After all, what is easy to use to a tech is not necessarily what is intuitive to a clinician.
"After we narrow down which units we're interested in, before we actually commit to buy it, we always request a demo," says Kevin Liang, senior biomedical technician. "During the demo, we put it out to the nurses to use, so we can be sure that it's not just the biomeds who think it's user-friendly. We also ask what they think of the product as a whole, which really helps with adoption of the new system as well."
Still, Picinich advises, "You also have to be flexible. There are times when you can present an idea and everybody agrees on it, then maybe a week or two later you get called back and they say they want to change something, because now that it's in place it doesn't really work."
Recruiting Allies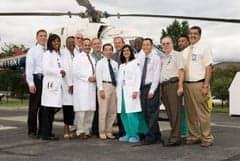 WMC's biomedical engineering department
Physicians, nurses, and other hospital staff are not the only information resource for the biomed team.
"Often, I will access Biomedtalk, and I will post a message to see if anyone's had experience with a product or manufacturer," Liang says. "In most cases, there are some experienced biomeds out there who can provide you with some insight, either on how user-friendly the equipment is, how helpful the company's tech support is, or if the product performs as advertised."
Connecting with the right vendor—not just in terms of equipment offered, but service and accommodations provided—has played a key role in the success WMC has seen during its 2-year period of rapid-fire installations.
"In addition to evaluating the quality of the device itself, we also examine the support available from the manufacturer. If you end up with a system that is not working properly, and you call tech support, you want to talk with a live person and not just leave a voicemail," Liang says. "Beyond that, when you do talk with tech support, you want someone who can give you some good advice and help you resolve the problems, not just tell you something that's not even close to the problem."
When a 12-person biomed team is tasked with tending to more than 11,000 pieces of equipment, having support at the ready is mandatory and just one more reason why a strong vendor is important.
"As important as it is for us to know that the nurses know how to operate the machine, we also look at our role and want to be taught the things we do to prevent outages or failures from happening," Liang says. To this end, the WMC biomed team looks to see if on-site training, calibration tools and software, and service manuals accompany systems.
For Bartosch, examining the vendor relationship should be made independently of any other decisions.
"Before you even purchase a product, you have to be sure you can have a very good working relationship with the vendor. You have to establish: how will this vendor help me get the job done?" he says.
The checklist of vendor-related items includes: how is the install going to be handled, and by whom? Will the vendor help you determine what infrastructure changes, if any, are required?
"They should also be able to help you determine the timeline, from the prepurchase date through delivery, taking into account how soon they can build it, how soon they can deliver, and how quickly you can pay for it," Bartosch says. It should also be clear up front what role the vendor has in installing, testing, and certifying the systems. "You have to be very tight with your vendor; they have to be with you every step of the way to make it happen."
Developing this connection with the vendor pays off in other ways as well. "Working with the manufacturer, you can help guarantee that the equipment is in on deadline," Picinich says. Having boxes arrive on the date promised is only half of the battle. "Even after the equipment is in, you have to inventory it, you have to test the equipment before it goes to the patient, then you have to make sure all of your networking is in and everything is communicating—and vendors can often help with that."
Learn Along the Way
Of course, all the diligent research and planning does not change the fact that it is impossible to please everyone all of the time. For the WMC team, however, that is just one more aspect of the learning cycle.
"I enjoy getting feedback, whether it's good or bad," Picinich says. "When it's good, I still know I can improve it more. If it's bad, I think that's great, because it'll help us make our next project that much better."
With so many projects piggybacked one right on top of the other, the biomeds are able to immediately apply any lessons learned.
"Once you get that criticism, and you apply it right away, it is burned into you," Picinich says. "And that's the best, because you are always trying to make the department look good, you're always trying to improve."
From her post in the OR, Tahilramani concurs. "I am not a superwoman, I cannot possibly know the ins and outs of every piece of equipment. I am an ordinary woman with common sense," she says. "But common sense is most important. With that, the OR staff will show me how they normally use a piece of equipment and I learn from them."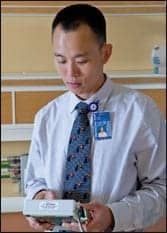 Senior BMET Kevin Liang sets up a patient simulator for testing of the new EKG machines.
Not only does she expand her knowledge of the different devices by working with clinicians, but it is also the key factor in how she makes sure the OR staff has access to the best equipment on the market. For Tahilramani, learning from her customers is just one way of staying on top of the latest trends and technology.
"How do I know when it's time to replace a system?" she asks. "Surgeons won't hesitate to tell me when a device is old, that it's not doing what they need it to, or it's breaking down."
She also makes a point to talk with surgeons who are either new to WMC or who work regularly at other facilities.
"I ask them straight out: 'What are you seeing at other hospitals that is more sophisticated than what we have here?' And then I contact the manufacturer to learn more," Tahilramani says, who does in-depth research to determine if the upgrade is something that would benefit both the surgeons and the hospital. "For example, in May 2007, we purchased two navigation systems for our orthopedic surgeons. We invested about $600,000, and it's been well worth it. The surgeons are happy to have the new technology, and they are able to perform a lot more procedures; they're also able to bill for those procedures, making it possible for the hospital to see a return on the investment."
A Bright Future
Despite the long days and seemingly endless list of acquisition projects, the biomeds at WMC would not have it any other way.
"When I learned we were going to be bringing in so many different systems, I was excited," Liang says. "I enjoy being able to see all of the new equipment and to help set it up. I also really like doing in-services for the users and showing them how to use it as well."
Bartosch hears this sentiment echoed throughout his entire team. "From a biomed standpoint, biomeds always like new technology; they want to see the new bells and whistles," he says. Beyond that, a facility boasting the best technology and equipment available reflects well on the biomeds. "Everyone wants to be able to showcase where they work. We take in the sickest patients in the region; we are able to do that because we have the technology to treat them and, hopefully, provide positive outcomes—and that's something to be proud of."
---
Dana Hinesly is a contributing writer for 24×7. For more information, contact .
Staying Busy: The WMC Biomed Project List
In 2007, and continuing through 2008, Westchester Medical Center (WMC), Valhalla, NY, began its $100 million investment in capital projects and equipment, including: a new 11-bed medical intensive care unit; the total renovation of all adult inpatient rooms; system improvements in the radiology, cardiac catheterization, and EEG labs; evaluation and replacement of the fleet of electrosurgical devices; and upgrades for the advanced labor and delivery center.
Last year, the hospital had a laser-like focus on acquiring new systems and functionality. While still performing their routine maintenance and floor-call duties, the 12-person biomedical team oversaw the vetting, acquisition, and installation of:
Patient monitors: Post anesthesia care unit/recovery room/burn unit/neuro ICU's;
Infusion pumps: Alaris system/wireless;
Thermometers;
Glucometers;
Anesthesia machines;
NICU replacement: Incubator fleet/warmers/phototherapy;
Blood gas analyzers;
Sequential compression devices; and
LifeNet EMT communication/remote 12-lead EKG transmission.
This year has proved to be just as busy for the techs. Renovation and upgrade projects in 2008 have included:
Patient monitors and recovery rooms at the Children's Hospital;
Philips 1.4-GHZ telemetry installed on multiple floors;
Defibrillator replacement throughout the facility;
Installation of new Philips EKG machines;
Electroconvulsive therapy lab;
Anesthesia charting package;
Central sterile processing sterilization/washers/sterilizers;
Simulation lab;
Pyxis medication stations;
Hill-Rom nurse call systems with infrared;
Da Vinci Robot 4 ARM 3D/HD; and
Left ventricular assist devices.
In the coming decade, significant additional capital and building projects will enable WMC to continue to offer the most advanced care to patients in the region.
—DH