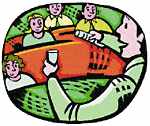 Over the years I have been asked numerous times, "How does someone get into the biomedical electronics field?" There are several ways to begin, but I generally tell people about educational options to receive the desired credentials. Here are a few of them.
There are several colleges and universities offering transfer programs in which students can attend classes in their local area and transfer into the biomedical program, have their transcripts evaluated, and receive their degree.
The University of Phoenix (www.phoenix.edu/military.asp) offers such a program for people with a military background. The associate of arts degree has a biomedical technology option. This program works very well if one has attended the military's medical equipment technician school. The university accepts the biomedical courses from the military; the student then must complete the requisite math and English classes at a local school. Phoenix does require one of its correspondence courses in English to be completed. For veterans and nonveterans alike, Thomas Edison State College (www.tesc.edu) offers associate and bachelor programs in biomedical electronics. These science degrees have a strict curriculum that can be completed locally or by correspondence. The school offers video, audio, and traditional correspondence courses, and telecourses.
Thomas Edison's programs do not require that courses be taken at the college. All that is required is that the student complete the prescribed courses in the curriculum and have the transcripts sent to the registrar.
On a more traditional note, Indiana University–Purdue University Indianapolis (www.iupui.edu) offers associate- and bachelor-level programs at its campus but also has a certificate program that can be completed online. This program includes just four courses. There are some prerequisites, so look into this course closely before enrolling. The certificate offered is aimed toward laboratory equipment. The courses involved do transfer into IUPUI's degree programs, should one wish to move toward that end.
Other educational resources out there are targeted toward working biomeds who are either studying for certification or looking for ways to earn credit toward recertification. Some of these programs are also useful in meeting the Joint Commission on Accreditation of Healthcare Organizations' requirements for continuing education.
Scientific Enterprises (www.scientificenterprises.com) has for years offered a correspondence program. The program is sold in individual modules, and students can purchase just the courses pertaining to their needs. This program has approximately 30 biomedical modules. Scientific Enterprise's courses all have continuing education units offered with them. There is a test included that is sent in and graded by the staff. Credit is then awarded upon successful completion of the module.
Radiologic Service Training Institute (rsti-training.com) has put together a correspondence course that is specifically written for certification on imaging equipment. There are nine graded modules based on the outline for the certification exam. The courses comprise discussions of anatomy, film processing, radiograph techniques, and biomedical equipment.
A new player is BiomedRX (www.biomedrx.com), whose biomedical equipment technician (BMET) course is designed to prepare students for certification. A fee is billed to one's credit card monthly until the course is completed or canceled. Students are allowed to study and test at their own pace through 32 modules. The intended culmination is to have technicians ready for any of the certifications available: CBET, CLES, CET, or CRES.
In answer to the original question, "How does one get into the biomedical electronics field?" I must answer, "By whatever way is best for you." Whether you have the time to earn a degree or just want to self-study to become certified, there are plenty of options. I have included the Web sites of the programs for convenience. Costs and time requirements vary, so be sure to thoroughly research your choice before committing to any program. If you know of others or spot an inaccuracy, feel free to email me at GW1966@hotmail.com.
Glen L. Wolfe, CBET, CET, is lead technician at LaGrange (Ill) Memorial Hospital. He has worked in the field for 12 years and holds an AA in biomedical technology.