The Radius-7, a wireless, wearable pulse and oxygen patient monitoring platform, has received 510(k) clearance from the FDA, according to manufacturer Masimo, based in Irvine, Calif. Designed for Masimo's Root patient monitoring system, the Radius-7 wireless wearable monitor employs the company's rainbow SET technology, which allows patients freedom of movement with continuous monitoring.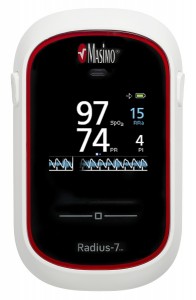 According to the announcement from Masimo, rainbow SET noninvasive measurements enable the Radius-7 with Root patient monitoring to alert clinicians of critical changes in a patients' respiration through their oxygen saturation and pulse rate, whether remotely or at bedside, and even during states of motion and low perfusion.
The wireless wearable monitor is reported to be lightweight, weighing in at only 0.34 pounds (155g). It can be attached to the patient's arm, or can be placed alongside the patient in bed, allowing for untethered monitoring. Because it is not necessary to disconnect and reconnect a cable to get out of bed, the Radius-7 reduces a patient's need for nursing assistance. The Radius-7's wireless communication functionality helps ensure that patients can be continuously monitored and connected to caregivers wherever they are in the hospital. Wireless communication can be either short-range via Bluetooth back to Root, or long-range with upgradeable Wi-Fi.