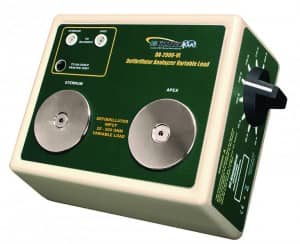 BC Group, a company that manufactures, services, and sells biomedical testing equipment, has announced that its DA-2006-VL variable load box, an external load bank for the BC Biomedical line of defibrillator analyzers, has received FDA 510(k) clearance.
According to BC Group, the DA-2006-VL works in conjunction with the DA-2006 and DA-2006P defibrillator analyzer as an external load bank. Customers who already own a DA-2006 or DA- 2006P can update their software for free to be compatible with the DA-2006-VL. The DA-2006-VL is used when testing defibrillators to ensure the proper electrical current is delivered to the heart, per AAMI DF80 and IEC 60601-2-4 standards. Both AAMI and IEC require defibrillator analyzers to test a variety of impedances, to simulate a wide range of patients. With the DA-2006-VL, the DA-2006/P has test loads from 25-200 ohms and can be measured in 25 ohm increments.
The DA-2006-VL has technology that enables the device to be automatically recognized by the DA-2006 series, leaving no settings to change or configure. The company reports that no other defibrillator analyzer load bank offers this feature. The DA-2006-VL is only compatible with the BC Biomedical line of defibrillator analyzers. ?????
To learn more about the DA-2006-VL, visit the BC Group website.