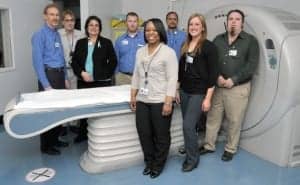 The DMC imaging engineering team, L-R, front row: Chaye Vaughn, Bobbie DeBolt, and Jim Wheeler. L-R, back row: Dennis Bowser, Tom Monk, Teri Gorski, Shawn Cassey, and Carlos Reyes..
Detroit Medical Center (DMC), Detroit
By Brenda J. Gilchrist, special to 24×7
When a patient holds still for a chest x-ray, or a family prayerfully watches a loved one on life support, they assume the equipment is working properly, or more likely, they never even stop to think about it. They don't have to, not when there is a finely tuned clinical engineering department like the one at Detroit Medical Center (DMC), Detroit, that services nine hospitals and institutes in southeast Michigan.
Selected as one of 24×7 magazine's Best of Biomedical Departments of 2012, the clinical engineering department at DMC manages 38,300 pieces of patient care equipment and 1,300 imaging devices. Handling that amount of equipment requires a detailed-oriented, well-organized infrastructure that is able to maintain patient safety as its first mission and respond quickly and efficiently.
"DMC's clinical engineering reached its current status as an industry leader through the hard work and vision of our entire team, many of whom have been with the department for many years and provided the background and insight we needed to move forward," says Makidah Mahdi, corporate director, clinical engineering. "Currently, we are a centralized department, meaning processes such as regulatory compliance, service contracts, preventive maintenance (PM), and repair are managed at the corporate level. In addition, imaging engineering services has been centralized and moved in-house, all of which has resulted in patient safety that is enhanced by a clinical engineering department that operates better, faster, and more cost-efficiently than ever."
Getting there was a process. So is staying there. Fortunately, for DMC patients, this system has a strategic plan and a highly trained staff that is accomplishing both goals. The department is saving the system in excess of $1 million since the consolidation efforts began a few years ago, through new efficiencies and specialized contracting.
One of the most significant developments in the department's transition was to create the in-house imaging engineering service division to service the imaging equipment for the system's hospitals and an affiliate cancer center. The division includes a corporate engineering manager, five engineers, and two dispatchers. A multivendor provider for high-end, high-cost-risk modalities supports them—an innovative contracting method wherein one vendor services imaging equipment from multiple manufacturers.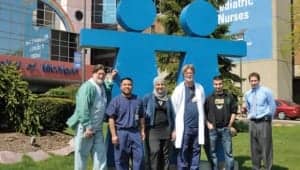 L-R: At Children's Hospital of Michigan, Greg Alter, Ricardo Mamuyac, Khadije Hussein (intern), Jim Dickerson, Abbas Khazaal (intern), and Greg Bankowski. Not pictured: Chris Christensen and Anthony Fleming.
Another four clinical engineering managers oversee a corps of 30 biomedical engineering technicians (BMETs) who provide on-site service to the system's hospitals and multiple satellite offices.
A Look at the History
To see just how this system evolved as an industry leader requires a look back. Before adopting its current structure, DMC's clinical engineering operations functioned under several configurations over the years. The processes ranged from having everyone report to one corporate director under facilities management, to a four-wall approach with supervising administrators at each site.
In all of these configurations, patient safety was always the priority. Each DMC hospital had its own clinical engineering manager; they all used the same processes, the same system policies, the same database and applications, and followed the same protocols. The system conformed to Joint Commission standards and used an evidence-based approach to develop its PM schedule for patient care equipment. Each hospital still has is own clinical engineering manager and unified processes, but they now report to the materials resource management department.
"The transition made sense because negotiating contracts, managing vendor relationships, and expediting supplies and parts is all part of the supply chain process," says Don Groth, DMC corporate vice president, materials resource management. "Our objective was to pull together a more centralized and team approach to managing, servicing, and maintaining more than 38,000 pieces of medical equipment across the system.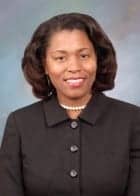 Corporate Director Makidah Mahdi, DMC clinical engineering.
"We're focused on customer service and ensuring that all equipment is ready and safe to use," Groth continues. "We are also focused on efficiency through sharing resources across the system, selecting system standards for equipment purchases, and working as a team with other stakeholder departments such as information services, clinical transformation, and, of course, patient services, to come up with clinical equipment strategies that best meet the needs of the organization. The system worked, but business models began to change and every industry had to find ways to deliver the same quality services in more efficient ways."
DMC became one of the first health systems in the nation to seek ISO 9001:2000 and ISO 14001:2004 certification. These certifications, based upon standards developed by the International Organization for Standardization (ISO), indicate that the DMC management systems focus on quality and customer satisfaction by meeting applicable regulatory requirements and continually improving performance (ISO 9001:2000). In addition, DMC has implemented a management program that practices sustainable business development, as it applies to environment-related measures (ISO 14001:2004).
These certifications are unique in the health care environment, and DMC is one of the very few that has made the effort to have its entire system become certified. The clinical engineering department was well positioned for starting the ISO conversion, because of the uniform policies, processes, and database that its on-site clinical engineering units shared. The department had to move from evidence-based maintenance scheduling to a program based on manufacturer and regulatory requirements to achieve ISO certification and to later meet current CMS standards.
In addition to policy revisions for PM scheduling and the creation of an in-house imaging engineering division, DMC's clinical engineering department also centralized its service contracting under a corporate service contract manager, allowing for better leverage and cost containments. Chuck Connor holds this position.
"I try to ensure we only buy the contract coverage we need at the best possible price," Connor says. "We also try to use 'shared service' agreements as much as possible. Those are arrangements in which our people are trained by the equipment manufacturers to do the majority of the service work and scheduled maintenance. In return for our people being first responders and solving most of the problems without assistance from the manufacturer, we get discounts on agreements, which ensure we can have the manufacturer's experts available to assist with repairs when necessary and without delay."
Other responsibilities for Connor include monitoring and disseminating equipment recalls and alerts, and managing large-volume equipment purchases, like DMC's recent acquisition of thousands of new IV pumps.
A Dedicated Team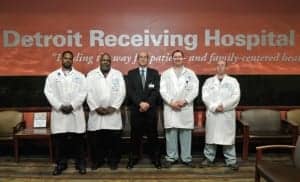 L-R: At Detroit Receiving Hospital, Darryl Hunt, Ray Harris, Jerry Gerardi, Gerald (Jake) Lay, and Dave Burkhart (intern). Not pictured: Charles Chapman.
Transitions like this don't happen without a dedicated and well-trained staff to launch, cultivate, and monitor the program.
The DMC clinical engineering team represents a broad base of experience. Each member, while attuned to individual responsibilities, shares the primary goal of patient safety. Each site has success stories of new innovations, and team members verbalize an unparalleled depth of knowledge, dedication to their roles, and pride in their work.
The imaging service, for instance, was at one time decentralized. Each department within each hospital had separate diagnostic suites with separate contracts, and maintenance schedules with different companies at different times. Theresa Gorski, corporate manager, imaging engineering, talks about the imaging division's operations and successes since it was launched in 2009.
"We hired five engineers who have skills in different modalities. Our level of experience is well over 100 years combined. We designed our own asset tag with the service phone number clearly visible and attached one to each imaging system. This allowed us to get an accurate inventory to consolidate service costs and better manage maintenance agreements."
Service calls go to one central phone number, a work order is created, and an engineer is dispatched electronically via e-mail to a smartphone. The engineer will respond to the service request to do a first look, make repairs, or call for outside support.
The single vendor contract was also a major innovation for the imaging division. It allows the department to talk to, develop a relationship with, negotiate with, monitor, and follow up with a single company on high-end, revenue-producing modalities, minimizing downtime.
"Whatever is done to each piece of equipment is documented in a database, and we then associate every work order with a cost," Gorski says. "Consolidating and centralizing the service of those devices has been very successful from a financial standpoint. All service vendors, contracts, invoices, and parts costs are managed by one department. From a patient safety standpoint, we're also better able to track and manage compliance issues and requirements.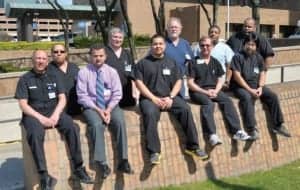 At Harper University/Hutzel Women's/Rehabilitation Institute of Michigan/Karmanos Cancer Hospital, L-R, front row: Ken Opalewski, Hassan Jizzine, Misael Perales, Frank Smigielski, and Rex Baria. L-R, back row: Bob Johnson, Tom Hryciuk, Eric Radgowski, Dave Mitchell, and Corey Gilbert. Not pictured: Paul Charbonneau.
"Another reason for success is the ability to track and monitor vendors, field service engineers, capital equipment purchases, and customized service agreements," Gorski continues. "We have developed a good working and reporting relationship with our outside support vendors and service teams to minimize downtime, reduce costs, and maximize patient safety. This allows for vendors to work with one manager rather than multiple managers throughout the system."
Moving Forward
New initiatives for 2012 include sharing BMETs between sites, finding ways to expand in-sourcing to reduce dependency on service support from manufacturers, and monthly BMET education and training sessions to keep technicians on top of rapidly changing technology. The department also partners with local colleges, universities, and technical schools in the community, to provide an internship program that helps ensure that new and skilled professionals continue to enter the field.
Jason Wright was one of those students. He started off volunteering in the biomedical/clinical engineering department at DMC Huron Valley-Sinai Hospital in late 2008 while still pursuing a degree in the field. He has been a full-time technician at DMC since June 2010.
"When I first started volunteering, the first thing I learned was patient safety, hard work, and dedication to every detail," Wright says. "In the field of clinical engineering, patient safety is and always will be the number one top priority."
The sharing of expertise between sites, an initiative DMC continues to develop, registers as one of the things Wright likes about his department. "If I have an issue with something I'm trying to repair, I know I can pick up the phone and consult any of the clinical engineering technicians throughout the system and they will be willing to help me resolve the issue. That is what makes us stand out from other systems," Wright says.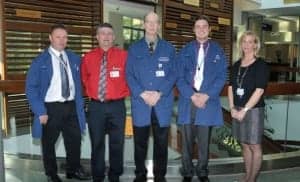 L-R: At Huron Valley–Sinai Hospital, Steve Cope, Mike Burdinie, John Wheeler, Jason Wright, and Karen Fordham.
Gregory Bankowski, clinical engineering manager for DMC Children's Hospital of Michigan, has been in the biomed department at DMC since 1993. He describes one of the innovative solutions that DMC's clinical engineering teams continue to create and implement. His site established an equipment task force committee made up of nurses, physicians, environmental services staff, support services, and others. They decided to establish an in-house, online radio frequency identification equipment tracking system.
"Nursing loves the idea of using one click of the mouse to locate high-end items such as a bladder scanner that might be shared with an entire floor," Bankowski says. "Environmental services uses the system to track specialty beds and cribs that are needed for our infants during room changes. Transportation uses the system to track stretchers and wheelchairs to move our patients quickly and efficiently. Our department was immediately impacted by this change because we could immediately identify medical equipment that was due for scheduled preventive maintenance. Rather than having our clinical engineers walking the halls checking asset tags, this system allowed them to immediately locate items that needed inspection."
According to Bankowski, staff can immediately identify and locate equipment during a recall or manufacturer upgrade—another benefit of the technology.
Another clinical engineering manager, Hassan Jizzine, says day-to-day responsibilities go far beyond supervision of technicians. He and the other site managers also work with regulatory agencies on hospital inspections and audits, handle budget matters, and sit on various committees.
Jizzine's team handles patient care equipment for DMC Harper University Hospital, DMC Hutzel Women's Hospital, DMC Rehabilitation Institute of Michigan, and the affiliated Barbara Ann Karmanos Cancer Center.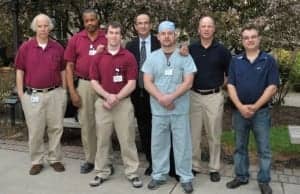 At Sinai-Grace Hospital, L-R, front row: Andy Bentley and George Adams. L-R, back row: Randy Goll, David Bridges, Jerry Gerardi, Marty Hofmeister (Intern), and Faris Bahro (Intern). Not pictured: Alicia Price and Chris Huddleston.
"This job is challenging because we're the go-to department," Jizzine says. "Because of patient safety, you are on alert all the time. You are like a firefighter, a soldier, or a doctor. A successful clinical engineering department depends on both management and staff, and we are fortunate to have an experienced, knowledgeable, and responsible team."
Jerry Gerardi, clinical engineering manager at DMC Detroit Receiving Hospital and DMC Sinai-Grace Hospital, oversees both departments with a team of 11 technicians. Gerardi's team shares resources for managing patient care equipment at both hospitals, as well as the University Health Center clinics and outpatient surgical centers.
"We have many talented technicians who have received extensive training in several specialized areas, such as anesthesia machines, ventilators, heart/lung bypass machines, and sterilizers," Gerardi says. "The shared resources of these technicians have minimized vendor service calls and have reduced equipment downtime. We've been able to capture more than $80,000 in savings so far this year."
Clinical Engineering Corporate Director Mahdi sums it up this way. "Our mission is to provide the Detroit Medical Center with the highest quality of service and patient safety, by providing prompt, innovative, cost-effective equipment maintenance and repair. Our main perspective is that by providing preventive maintenance inspections on all of our equipment, we can verify performance and identify minor problems, resolving them before they become costly major repairs down the road. We understand that preventing errors saves lives. It's similar to the preventive care concept that health care clinicians use every day for their patients."
---
Detroit Medical Center
Clinical Engineering Department
Detroit, MI
(888) DMC-2500
www.dmc.org