By Roger A. Bowles, MS, EdD, CBET
During casual conversations on the Expo floor, as well as in numerous educational sessions, one message seemed clear at June's AAMI 2017 Annual Conference in Austin, Texas: the looming shortage of qualified medical equipment service professionals. In fact, one presenter at AAMI 2017 stated that more than 25% of current technicians will be retiring in the next four years and more than 55% will be retiring in the next 14 years.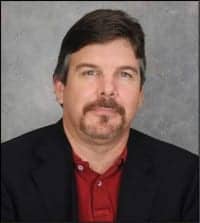 Looking around, it isn't hard to see the graying of the HTM population—a category I certainly fall into. And with the growing number of calls I've gotten from employers searching for entry-level technicians lately, I'm not sure the shortage isn't already here.
Add the shortage of technicians to the decreasing number of students coming into the field and the program closures around the country, and you have a huge problem. In my opinion, more effort to recruit high-school-age students would seem to be the answer.
Last year, our program visited more than 40 high schools, career events, and job fairs. Enrollment in our program is up slightly, but compared to five years ago it's still about 40 to 50 students below what we would like it to be. Right now, we have about 120 to 130 students overall in our program and graduate 40 to 50 students per year. (Ideally, we would like to stay over 150 students and graduate at least 60 to 70 students per year.)
Further, the average age of our students remains at around 28 to 30, with most of them being career-changers. Few of them came directly from high school.
Every semester, I ask the incoming group of students how they heard about our program and/or career field. And every semester, the overwhelming majority of them say they heard about it through a friend, neighbor, or family member who works as a medical equipment repair professional. Maybe one or two say that they saw us at their high school.
So, clearly, recruiting at high schools hasn't been our most successful avenue of attracting new students. And that has been the case for all 20 years I have been here. In my opinion, what we need to do is increase students through word of mouth and graduate more of the students we do get through better retention. After all, we often lose some of our students to other programs while they're on campus.
I've asked several of them why they've switched to instrumentation, electrical power control, robotics, and related programs. Some say starting pay, of course, but most of them say it's because they've noticed the number of employers recruiting for these programs on campus, as well as the number of employer-provided banners, brochures, and job postings hanging throughout the hallways. They've also mentioned how employers are donating equipment to these programs. In other words, they notice how employers are investing in them.
Every week, employer representatives are on campus interviewing and talking to students. Many of them are providing scholarships and sponsorships to students in those programs.
Interestingly enough, at one AAMI presentation, a presenter from a very well-respected HTM program mentioned competing with power-sports programs on-campus. And, just yesterday, I saw a for-profit school's national recruiting advertisement on television, which highlighted how many sponsored scholarships they were giving to incoming students. This may be key for our industry, also.
Furthermore, I believe that in order to attract more students to our biomedical programs—and graduate more students into the field—three things need to happen:
We need more scholarships and/or sponsorships from employers recruiting future medical equipment professionals. If our program could offer 20 to 30 scholarships per semester (and not necessarily huge scholarships!) from five to 10 different employers, it would be a good recruiting tool—especially through word of mouth.
All HTM and biomedical programs need more employers on campus, interviewing and just talking to students, as well as providing banners for the hallways and brochures. That will get students excited about the career field.
We need more equipment donations. Although our department is fortunate to receive donations, sometimes the equipment is well-used and no longer what the students would see in hospitals. These donations typically come from ISOs and hospitals where our past graduates work—and we are grateful. But wouldn't it be nice to see OEMs invest more in the future of our industry by providing us with state-of-the art equipment?
Many programs around the country are in state-funded, non-profit schools. Maybe equipment donations and other activities could be tax write-offs? Although OEMs can generally cherry-pick their field-service employees from current hospital-based BMETs, it would seem to me that eventually the shortage of qualified medical equipment repair professionals will have an effect on everyone.
Roger A. Bowles, MS, EdD, CBET, is a professor of biomedical equipment technology at Texas State Technical College in Waco.