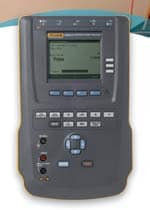 The FDA has granted 510(k) clearance to Fluke, Everett, Wash, for its new automated, multifunctional ESA615 electrical safety analyzer, featuring built-in standardized test sequences.
The ESA615's standardized test sequences enable every test to be executed quickly and accurately with a clear pass/fail indication of test results. It tests to the new IEC62353 (VDE751), IEC60601-1 (2nd and 3rd editions), ANSI/AAMI ES-1, NFPA-99, and AS/NZS 3551 standards. Customers can also interface in English, French, German, Spanish, Italian, or Portuguese.
Built-in automation eliminates the need to carry a laptop for complete automated testing and documentation of electrical safety tests. Quick data entry and error-free reporting reduce test time and improve quality of test results making data management easy.
"The ESA615 brings built-in automated testing to the palm of your hand," said Shirin Khanna, product marketing manager for Fluke Biomedical. "ESA615 provides exceptional value by getting the job done accurately, faster, easier, and with better technology than ever before."
Fluke Biomedical, a global provider of test and measurement equipment and services to the health care industry, offers an entire line of electrical safety testers. The company serves biomedical engineers and quality-assurance technicians, as well as medical physicists, oncologists, and radiation-safety professionals.