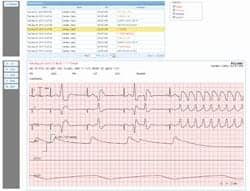 Excel Medical Electronics, Jupiter, Fla, has introduced the AlarmNavigator, a software product designed to help hospitals comply with The Joint Commission's 2014 National Patient Safety Goal (NPSG) on alarm safety.
A web-based application, AlarmNavigator is an administrative tool designed to compile alarm data from patient monitoring systems and help hospitals determine how many and what kind of alarms they have, how the alarm environment differs from one care unit to another, and how to measure improvement as alarm-management changes are implemented. According to the company, the application is fully scalable, allowing hospitals of any size to identify and quantify their alarm conditions and to generate meaningful reports that enable evidence-based decision making.
For more information, visit the Excel Medical Electronics website.