The sixth annual AAMI/FDA Summit, held mid-September 2014 in Herndon, Virginia, focused on the myriad safety challenges related to ventilator technology. A result of this year's summit, which was attended by 160 experts and stakeholders from multiple disciplines, was a report that outlines several ways in which life-saving ventilator equipment could be safer.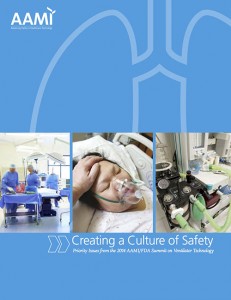 "With all the advances in technology, we also see clinical challenges that go hand in hand with the advances and risks that need to be addressed," said Anya Henry, chief of the FDA Center for Devices and Radiological Health (CDRH) Respiratory Devices Branch. "We have an opportunity to address the challenges with a multidisciplinary approach."
Henry itemized several high-priority issues that must be addressed in order to improve patient safety and outcomes with ventilator technology. The three highest ventilator safety priorities she listed were: avoiding lung injury associated with positive airway pressure and oxygen exposure; minimizing the duration of mechanical ventilation; and improving visual and auditory alarm signal functionality.
The title of the summit report is "Creating a Culture of Safety, Priority Issues from the 2014 AAMI/FDA Summit on Ventilator Technology," which highlights the need for establishing a culture of safety whereby all clinicians would consistently use the same language and practices when operating ventilator equipment. The proposed culture of safety would include the use of standardized language, training, information sharing, and procedures for mechanical ventilation and ventilation modes among all relevant medical providers.
According to the report, more than 300,000 patients receive mechanical ventilation in the United States every year, and ventilated patients are at high risk for complications, and even death. Ventilator-associated pneumonia, sepsis, and acute respiratory distress syndrome are reportedly among the many complications that can occur in patients receiving mechanical ventilation. The report includes CDC statistics, which indicate that such complications can lead to longer duration of mechanical ventilation, longer stays in the intensive care unit (ICU) and hospital, increased healthcare costs, and increased risk of disability and death.
A PDF file of the summit report is available from AAMI.