The number of COVID-19 cases in the U.S. has been growing exponentially over the past few weeks and at an average of 41% per day since March 16. It is only a matter of time before there is an increased need for extracorporeal machine oxygenation (ECMO) to ensure the survival of critically ill patients, says GlobalData, a data and analytics company.
Sheryl Tang, principal medical devices analyst at GlobalData, comments: "As of 2019, there were 261 facilities in North America registered with the Extracorporeal Life Support Organization (ELSO). GlobalData estimates that the number of critical cases that may require ECMO is just shy of 50. However, given the continuous rise in cases over the past week and delayed efforts in applying nationwide mitigation strategies, the caseload could reach close to 12,000 by early April, and in a high-risk scenario, up to 32,000 critical patients."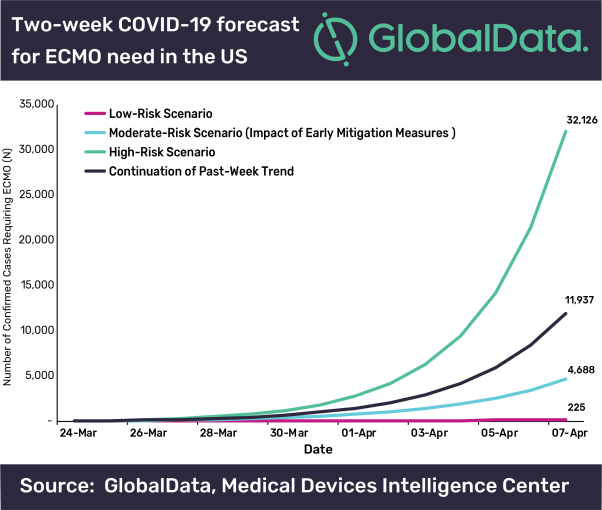 While there have been several successful cases in countries, such as Japan, South Korea, and China, there is hesitation in the U.S. surrounding the promotion of ECMO, largely attributed to the finite ECMO resources available and the complex nature of the treatment. The decision to use ECMO still depends on a number of factors, including the patient's condition and likelihood of survival, and not all patients requiring life support may be eligible for the treatment. However, failure to mitigate the surge of cases, and hence an increase in critical cases that can survive with life support, will likely push physicians to utilize ECMO.
Tang adds: "In the event that the need for ECMO far surpasses the resources available, it will be significantly more challenging to mitigate than the ventilator shortage. In addition to the shortage of equipment themselves, ECMO programs also require a team of highly trained professionals that are able to operate the equipment and be on-call for 24 hours, resources that the current healthcare system will not be able to provide."