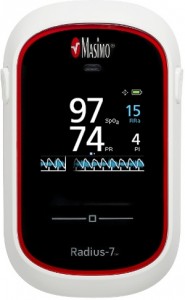 Noninvasive monitor manufacturer Masimo, Irvine, Calif, has announced that its Radius-7 wearable monitor has received the CE Mark. This will allow limited market release of the device, a component of Masimo's Root patient monitoring and connectivity platform. Using the company's rainbow SET technology, the monitor enables early identification of clinical deterioration while allowing patients freedom of movement.
According to Masimo, Radius-7 with Root can alert of critical changes in a patient's oxygen saturation, pulse rate, respiration rate, or haemoglobin that may indicate pulmonary, cardiac, or internal bleeding problems. The device attaches to the patient's arm or can be placed alongside the patient in the bed, allowing untethered monitoring. The device communicates wirelessly, either short-range via Bluetooth back to Root or with an upgrade to WiFi for long-range communication. The Radius-7 is not yet available for sale in the United States.
For more information, read Masimo's press release.