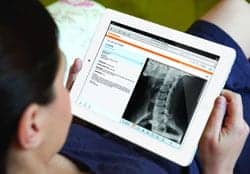 At the AHRA 2013 annual meeting this week in Minneapolis, Carestream announced that its zero-footprint Vue Motion image viewer is now in use by dozens of health care providers across the nation. According to Carestream, many facilities have added the image viewer to their EMR/Citrix environments to speed delivery of images and reports to clinicians and referring physicians.
"Many EMRs use Citrix to manage a variety of enterprise-wide applications. Unfortunately image viewing in Citrix poses performance challenges that are frustrating for clinicians, referring physicians and other users," said Cristine Kao, Carestream?s global marketing director, Healthcare IT Solutions. "Since Vue Motion is a zero-footprint viewer, it offers rapid access to images and reports even when it is used in a Citrix environment. This simplifies deployment, improves physician satisfaction and allows healthcare facilities to use their existing IT infrastructure."
Carestream's zero-footprint, Web-based Vue Motion viewer can be integrated with a third-party PACS or DICOM archive, embedded within an EMR or EHR portal, or used through URL activation. The image viewer is built on platform-independent technologies and delivers access using HTML5.
Vue Motion does not require software downloads and uses a single intuitive user interface, so no application training is required. It supports sticky notes communication, order information entry, and side-by-side image display.