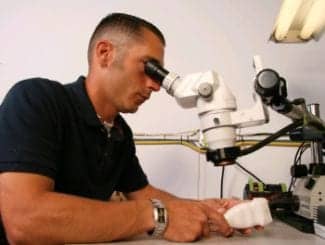 MEDRAD MVS
MEDRAD, Warrendale, Pa, offers TotalRepair, a guaranteed ultrasound probe repair solution for more than 75 of the most popular ultrasound probes. Patent-pending technologies give MEDRAD MVS the capability to offer TotalRepair, helping reduce service costs and mitigate financial exposure with a capped "worst case scenario" price provided up front.
MEDRAD will repair a customer's TotalRepair probe and return it, or customers can swap a defective probe for a tested replacement at the quoted repair price. The swap option offers the simplicity of a single transaction without the hassle and risk of keeping track of a loaner. TotalRepair is supported with a 6-month warranty for standard and 3D/4D probes and 90 days for TEE—transesophageal—probes.
MEDRAD also offers technical support by phone and has full sourcing capabilities.
(800) 633-7231
www.medrad.com
---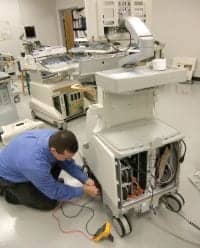 Midwest Imaging
Midwest Imaging, St Charles, Mo, will celebrate its 20th year of business in 2011. Midwest's team of staff and field engineers provide 24/7 tech support and same-day service. It offers parts, service contracts, and system sales of major OEM suppliers such as GE, Philips, and Siemens. The company also offers a free loaner probe program as a part of its probe repair business.
Since its start, Midwest has experienced considerable growth. Its service regions have expanded, and the research and design team have completed many new projects, such as Philips iU22 and iE33 power supply repair, control panel refurbishment, circuit board repair, UMB, and host and SIP computer repair. It plans to expand its sales and service territories, as well as invest in the research and design of new and upcoming system platforms to further serve its customers.
(877) 889-8223
www.mwimaging.com
---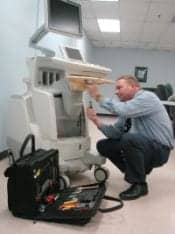 Conquest Imaging
Conquest Imaging (CQI), Stockton, Calif, an ultrasound service provider, offers an a la carte shared service program to meet the needs of clinical engineering departments and hospital systems. CQI's shared service program promotes clinical engineering departments to self-sufficiency in less than 3 years. The program is evaluated every quarter and adjusted according to the needs or demands of the on-site management and CQI-assigned consultants.
Over a 3-year period, departments will transition from full service (year 1), to shared service and training (year 2), to a complete transition by year 3. In year 1, CQI provides parts, probes, preventive maintenance (PM), and labor; the on-site clinical engineering staff shadow a CQI field service engineer on service calls and PMs. Year 2, CQI provides parts while the on-site staff receives training and assumes levels of ultrasound service responsibilities. In year 3, the fully trained on-site staff assumes the service role.
(800) 496-9906
www.conquestimaging.com
---
Unisyn Medical Technologies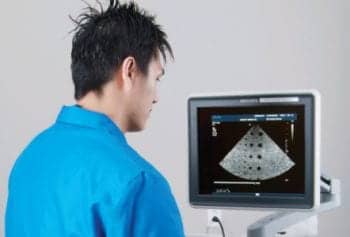 Unisyn Medical Technologies, Golden, Colo, an alternative ultrasound service provider for all major manufacturers and platforms, partners with its customers to provide an integrated and configurable service solution. The company provides rapid response times, uptime guarantees, and highly trained field service engineers.
Unisyn's nationwide field service organization is supported by three major depot repair and parts facilities across the United States. It offers advanced ultrasound probe repairs, including TEE probes, pediatric TEE probes, and 3D volumetric probes. Unisyn also has a large inventory of OEM parts to support a quick turnaround. Unisyn field service engineers are also equipped with unique proprietary technologies to help better troubleshoot and diagnose the ultrasound system and ultrasound transducer. Its engineers are also equipped with tools such as FirstCall aPerio, FirstAssist, Nickel, and the Optimal Phantom to help with Joint Commission and ACR accreditation.
(877) 386-3246
www.unisynmedical.com