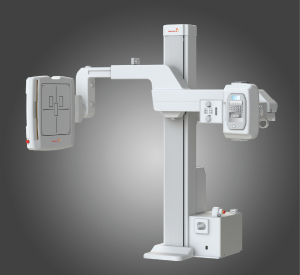 Rayence Inc recently announced that its RU-3000 universal digital radiography system received 510(k) clearance from the US Food and Drug Administration. The RU-3000 is the first U-arm system to be marketed by Rayence in the United States. According to the announcement, the system's small footprint and compact design allows for easy installation, while its dual telescoping arm movement permits installation in settings that have ceiling heights of just 8 feet.
The RU-3000 has fully motorized movements for source to image receptor distance (SID), arm rotation, height, and detector angle, which can be automatically programmed to user-specific radiographic positions by either the touch screen located on the tube head, or by a handheld remote control. The system comes with a Rayence 17-by-17-inch cesium detector, which is coupled with the company's XmaruView workstation. The RU-3000 is designed with a removable grid, patient safety anticollision sensors, and a mobile table. It is said to be well-suited for all imaging environments, especially orthopedics, imaging centers, and urgent care.
For more information about the company's digital radiography products, visit the Rayence website.