There won't be any need to worry should a piece of medical equipment break down in Boston the third weekend in June. Other places in the country won't be so lucky, as Bean Town will jump with an expected 1,700 clinical engineers, biomedical equipment technicians, and others who manage and support medical technology June 16 to 18 for the 36th annual AAMI Conference and Expo.
This year marks a significant milestone in the history of the conference, as the Association for the Advancement of Medical Instrumentation (AAMI) celebrates its 40th anniversary of serving biomeds with dozens of educational sessions, exhibits, certification courses, and countless networking opportunities at the Boston Marriott Copley Place and Hynes Convention Center.
Starting with the first event, the welcome and keynote session, AAMI will bring back many features that have had a strong positive reaction from past attendees. One example is the return of George Mills of The Joint Commission "by popular demand" as the keynote speaker at Saturday's opening events.
"AAMI's Technology Management Council has made it a top priority to provide members and conference attendees with more access to Joint Commission guidance," says Steve Campbell, vice president of communications for AAMI. He added that Mills was a popular presenter in 2006 and will provide attendees with up-to-date guidance on Joint Commission issues, as well as answer questions from conference attendees. Mills is a senior engineer and associate director in The Joint Commission's Standards Interpretation Group, and his availability for questions in person and via the Internet is a rare opportunity to get information straight from one of The Joint Commission's leading authorities.
The 2007 meeting will have other perennial favorites, notably the expo, which offers attendees a firsthand look at the latest in medical technology, a chance to meet with representatives of leading manufacturers, learn about future upgrades, and discover services that can help them at work. The exhibit hall will feature more than 100 companies, and has been sold out since April, making this year's event the largest AAMI meeting in at least the last 10 years.
Looking Back
A special addition to the event in honor of the organization's 40th anniversary will be a new museum documenting the evolution in technology that also shows where the organization has fit into that history over the past 4 decades. The museum will take a look back at how medical technology has developed over the last 4 decades and gives AAMI exhibitors a chance to showcase their role in advancing the industry.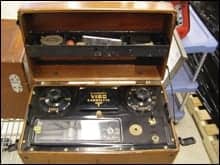 The Sanborn VISO cardiograph, on view at AAMI, was among the first to use a heated stylus to produce a trace on heat-sensitive coated paper.
The museum will feature "an infant incubator from 1947 on loan from Draeger Medical Inc, a critical care monitor from 1967 on loan from Nihon Kohden America Inc, an anesthesia machine from 1975 on loan from GE Healthcare, and an electrocardiograph machine from 1954 on loan from Philips," Campbell says. The unique museum was pieced together after sending out a call for submissions. Several companies responded, eager to be a part of the reflective exhibit and show their past, as well as their future, to AAMI attendees. The museum exhibit will also feature photos and other historical items from the organization's 40-year history.
The conference will also bring an important figure from AAMI's past to the stage. One of the cofounders of the organization, Burt Dodson Jr, will present on Sunday during the Dwight E. Harken, MD, Memorial Lecture and AAMI awards luncheon. Dodson served as one of the organization's first chairmen and was integral in establishing the CBET certification program, which he says, "has become an important part of the biomedical equipment field."
Dodson and his colleagues started AAMI 40 years ago "to become an organization of education and biomedical equipment development," Dodson says. In the time since it was just a thought, AAMI has grown into an organization with "a broad scope of activity that reflects the changes in communication, technology, hospital organizational structure, and the Internet," he adds. His lecture on the Sunday of the conference is a chance to get advice from someone who has seen firsthand how the industry has evolved, and he will focus on changes, challenges, and opportunities in the biomedical industry today and how AAMI can help its members cope with those changes.
"With international activity, evolving certification specialties, growing biomedical systems of technology, and even the cell phone, AAMI's organization has been driven by the change process," Dodson says.
Knowledge Is Power
Seasoned conference-goers all stress the importance of attending the educational offerings. The classes are overwhelmingly the first thing mentioned by past attendees as the events most responsible for bringing them back year after year, and with five tracks of nearly nonstop education, there are more than 40 hours of educational sessions scheduled for the weekend.
With so much opportunity, it can be tough to pick only one session to attend at any given time. Gregory Perry, former biomedical technician and current field engineer for Four Rivers Software Systems, Pittsburgh, says that those on the fence about attending a particular seminar can gain a lot by just poking their heads in. He admits that he will often "grab the syllabus they have at the door and quickly scan it to see if it's anything that I think is going to be of interest to me or my customers" before deciding to stay.
Dustin Telford, senior biomedical engineering technician for the Veterans Administration and a biomedical engineering technology instructor for Salt Lake Community College, will be attending his sixth AAMI conference this year. Spending time at the conference is a part of his ongoing education in technology, management, and regulatory agencies, he says.
"I gain a better sense of innovations occurring in operations, management, and administration of biomedical engineering organizations in the field," Telford says. He points out that the information gleaned from the weekend's activities is useful in whatever task he takes on, and in whatever capacity he is needed to participate.
George Dudchock, biomedical services director, Regional Medical Center, Anniston, Ala, sees enormous value in making the trip to AAMI for the second time in his 24-year career. "With the changes in health care, it is necessary to keep up with new technology and continuing education," he says. Dudchock plans on spending most of his time attending education sessions throughout the weekend.
However overwhelming the number of educational opportunities may seem this year, the classes are actually toned down a bit from earlier conferences. Pat Lynch, a nearly 30-year veteran of the conference, remembers when the schedule was even harder to navigate. When he first started going, "AAMI was running 10 concurrent sessions; now they're only running five," he says. "I would have a lot of trouble figuring out which one to go to because I was new in the field."
With the myriad classes and lectures offered, it is easy to lose sight of other, less structured learning opportunities that will be available in Boston. Telford equates the time spent informally talking with other biomeds at AAMI with sitting in on the educational sessions. "Through the educational sessions and networking with my peers, I feel I am more capable of handling unique problems and the concerns our health care system faces regarding The Joint Commission and day-to-day operations," he says.
A Sea of Activity
Dodson sees the conference as full of opportunity for first-time attendees who need to operate the weekend in "search mode" to benefit most. He says the meeting is a once-a-year chance "to meet with peers, listen to the education programs, search for opportunities of employment, see a future track of development with certification, and see the biomedical equipment profession of the future."
Lynch, regional director for service operations for TriMedx, Indianapolis, and former two-term member of the AAMI board of directors, advises newcomers to remember that there are three main areas that can be of value at the AAMI meeting. The first is the education sessions, "which have a plethora of information," he says. The second is the exhibit hall where visitors are treated to a look at the new devices and technology being introduced. "The third area is outside the official AAMI event," Lynch says. "The happenings in the lounges and bars and restaurants after hours—meeting people, making contacts, and enlarging your network"—are key to a successful trip.
The contacts made, and the conversations held in and around Boston that weekend, will be an invaluable asset for everyone in attendance in more ways than can be imagined. Networking can be more than just learning about new products or altering a career path—it can help with day-to-day operations and issues biomeds are facing. "When you get with your colleagues and you talk about problems you're having, you'll start hearing solutions," Perry says. The solutions people offer, amassed after having faced similar situations at their own hospitals and clinics, can serve as a road map to get out of a troublesome situation. "That is priceless information," Perry says.
Perry, a board member with the Georgia Biomed Instrumen-tation Society, frequently tells people about the benefits of the conference and membership in the organization. "AAMI is providing quite a service," he says. "Believe it or not, I still come into contact with biomeds across the country who aren't members of AAMI yet, or who haven't even heard of AAMI. It amazes me."
One caution Perry offers is not to look at the weekend as a minivacation. He stresses the need to take advantage of the fact that there are a lot of experts in the industry all being pulled together in one place for 3 days who represent hundreds of years of collective experience.
Putting that experience to use can take many different forms. Lynch appreciates the weekend if only because it provides a host of sympathetic ears. "The AAMI conference recharges my batteries," he says. "I get to vent to others who are experiencing my same frustrations, and take solace in the fact that many others have it much worse than I do."
Getting Involved
The conference offers more than just the chance to soak up a weekend's worth of seminars and lectures. Lynch has gotten involved as an active participant in the show for years, starting with moderating roundtables and giving presentations for the company he worked for at the time, which he says has "made all the difference in the world" and led to a significant change in his career.
This year, Lynch will act as chair of the Clinical Engineering Board of Examiners, so much of his converence time will be devoted to certification and proctoring oral examinations for clinical engineers who wish to be certified. When he steps out on Sunday, Lynch will be leading "Golden Nuggets 2007: Best Practices from Biomedical Departments around the Country," which he began 3 years ago to counterbalance a lot of the theoretical, future-oriented sessions at the convention. Over the past 27 years, Lynch has collected hundreds of tips in his travels around the country. From simple organizational techniques to running a particularly good piece of software, Lynch says most of his tips can be implemented in less than 10 minutes, for less than $50. He will share his golden nuggets in one of the most widely attended sessions of the weekend—one that wouldn't exist if he hadn't seen the value of getting involved.
| | |
| --- | --- |
| Read how others have benefited from the AAMI conference in the June 2006 issue of 24×7. | |
Perry says that being involved is the whole reason people should go to AAMI. "You just don't want to sit back," he warns. "The only thing that's constant in this wonderful profession of ours is change. If you don't get involved you're losing out. You'll get left behind."
Zac Dillon is associate editor of  24×7. Contact him at .