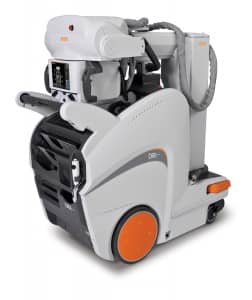 The Royal Victoria Regional Health Centre in Barrie, Ontario, has installed three Carestream DRX-Revolution mobile x-ray systems to help care for patients in its emergency department (ED), intensive care unit (ICU), and neonatal intensive care unit (NICU). This installation was part of a technology upgrade designed to help improve care for critically ill patients.
According to Carestream, the 319-bed Centre is a hospital facility north of Toronto that provides advanced treatment for patients in several counties. The DRX-Revolution systems provide the center with high-resolution images that can help its physicians quickly and accurately assess and treat acute care patients.
The systems have DRX-Revolution Rapid image access, which allows physicians to view x-ray images in seconds to make immediate patient care decisions. The center reports that converting to DR technology has helped reduce exposure rates by 30% to 40%, which is especially important for urgent care patients since they are often imaged frequently to track the status of their condition. Carestream's software provides a companion image that delivers optimized visualization of tubes and lines. Physicians reportedly use these images to help position tubes and lines for seriously ill or injured patients. Because the companion image is created from the initial image, there is no need to capture multiple x-ray exams of patients.
The center reports that it has three Carestream DRX-1 detectors and a 25 x 30 cm Carestream DRX 2530C detector. The small-format detector fits into incubator trays so staff can image fragile babies without moving them, and also works for large patients because its handle makes positioning easier for technologists.
For more information about the mobile digital radiography systems, visit the Carestream website.