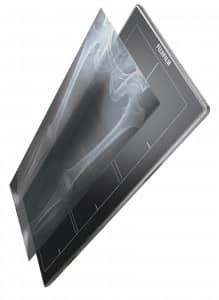 Fujifilm Medical Systems USA Inc is introducing one of its latest advances—the FDR D-Evo GL DR detector for single exposure long-length digital imaging—at the 101st annual meeting of the Radiological Society of North America (RSNA), held November 29–December 4, 2015 at McCormick Place in Chicago.
With a 17-inch x 49-inch field of view, the FDR D-Evo GL saves time, enhances efficiency, image quality, and dose for upright long-length radiography exams. According to the company, the detector enhances long-length exam efficiency compared to conventional DR stitching systems, which require multiple exposures, take longer to acquire, and increase chances of patient motion during exposures. The FDR D-Evo GL complements its single exposure acquisition with ISS technology and noise reduction circuitry to uniquely contribute to producing clear, sharp images at a low dose.
The detector received FDA 510(k) clearance November 5, 2015, and will be available in the United States beginning in spring 2016. It is being exhibited at Fujifilm's booth #4165, South Building, Hall A, at RSNA 2015.
For more information about the new detector, visit the Fujifilm Medical Systems website.