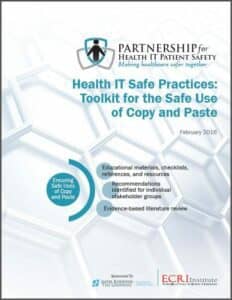 The rise of electronic health records (EHRs) has made it easier for clinicians to easily duplicate information such as text, images, and other data within or between documents using the system's copy/paste functionality. The copy/forward feature in many EHRs also allows clinicians to begin a new progress note by autopopulating the contents of a prior note. Despite the widespread adoption of these practices, no published literature has reviewed patient safety risks associated with copy/paste and copy/forward.
A new publicly available toolkit from the Partnership for Health IT Patient Safety examines these common practices and presents four recommendations for their safe use in a healthcare setting. Health IT Safe Practices: Toolkit for the Safe Use of Copy and Paste is the Partnership's first release in a series of planned evidence-based recommendations designed to improve health IT safety.
Convened in 2013 by ECRI Institute, the Partnership represents a multistakeholder group that includes healthcare providers, health IT developers, academic researchers, patient safety organizations, liability insurers, and professional societies. The copy/paste workgroup, chaired by National Patient Safety Foundation President and CEO Tejal Gandhi, MD, consisted of 40 leaders from participating organizations.
"We defined copy and paste, looked at uses, looked at the literature, reviewed events that had come into ECRI Institute's Patient Safety Organization, talked about vendor functionalities, and explored best practices from a couple of organizations and how they're working on copy and paste, and then, at the end, got to some recommendations," said Gandhi.
The toolkit stresses four key takeaways for health professionals:
Provide a mechanism to make copy and paste material easily identifiable
Ensure that the provenance of copy and paste material is readily available
Ensure adequate staff training and education regarding the appropriate and safe use of copy and paste
Ensure that copy and paste practices are regularly monitored, measured, and assessed
Associations supporting the Partnership and its recommendations include The Joint Commission, HIMSS, the American Medical Association, and the Alliance for Quality Improvement and Patient Safety (AQIPS). For a full list of partners and for more information, visit the Partnership website. The report is available for free download on the ECRI website.