Troops at Camp Bastion, a British military hospital in Afghanistan, are checking hundreds of medical devices to ensure their electrical safety. The routine testing will take place on equipment including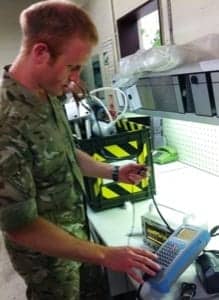 dozens of ECG machines, patient monitors, defibrillators, CT scanners, power chargers, and electrically operated beds. The testers are also used to check the electrical safety of medical fridges at Camp Bastion used to store emergency blood and plasma supplies.
Using Rigel Medical 288 field service portable analyzer kits, the team of military medical, dental and veterinary technicians perform electrical safety tests on devices used at the hospital as well as those returning from Forward Operating Bases located throughout southern Afghanistan. The field service kit tests for appropriate standards including IEC 62353 IEC/EN60601-1, VDE 0751-1, AS/NZS 3551, AAMI, NFPA-99, and MDA DB 9801-2006.
A compact Bluetooth barcode scanner help users ID devices and equipment quickly. After testing, the analyzer indicates whether the piece of equipment passed or failed and prints out a bar-coded label, which can be attached to the tested device to indicate its status. The information collected and stored by the tester is downloaded to a database, which provides enhanced electronic recording and management. The kit comes in an impact- and water-resistant Pelican case.